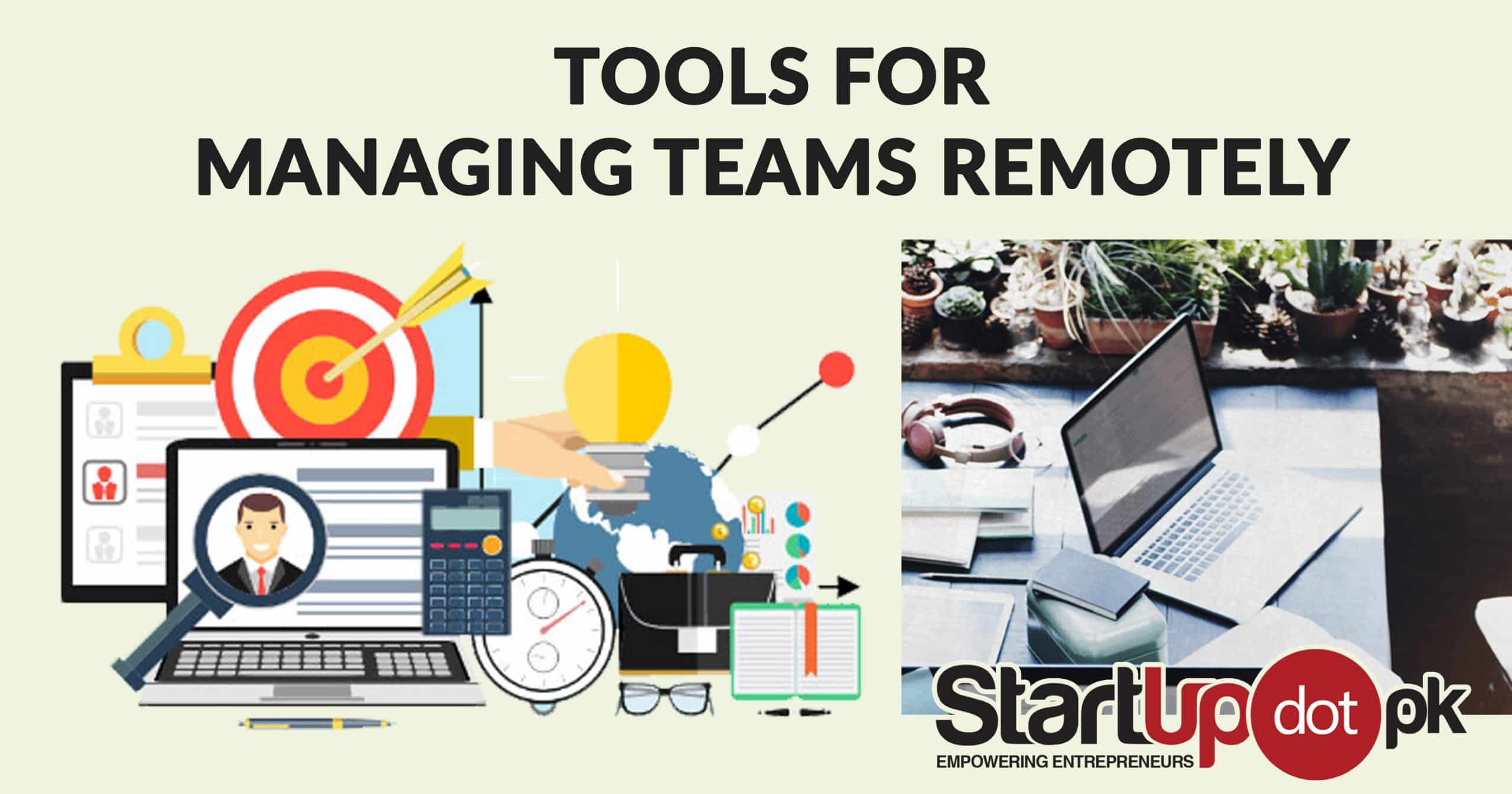 Up till few years back, managing remote teams has always been considered a hassle and have always been seen as an absurd idea by our managers but now as corona virus has led to the lock downs of almost half of the world, managers have no option but to manage their teams remotely. So, they might as well do it in a right way. Managing a remote workforce is daunting but the good news is that this new era of technology offers us a wide variety of convenient tools which offers us a shared virtual workspace, smooth coordination and help us meet different management needs of a working with a remote team.
This article will cover some of the very few popular tools that you can use to manage your remote teams effectively and make sure everyone is staying productive, on schedule and collaborating properly.
Microsoft Teams
Slack
Hubstaff
Asana
TeamViewer
Basecamp
Dropbox
Companies large and small, from

Google

,

Amazon

to

small startups

, everyone is

forced to close their offices

and encourage their employees to continue work

remotely

.
1.

Microsoft Teams: For virtual meeting and collaboration
Microsoft team is a high velocity work collaboration and communication tool developed by Microsoft that allows you to work remotely without feeling remote. This program was basically launched in place of Skype For Work in 2018. MS teams is a very useful collaboration tool with a lot of features and functionalities, allowing you to invite all your employees or team mates to chat, meet, call, share files and collaborate at shared virtual workplace. Best thing is that Teams in also available on Android having all key elements expected through a mobile app, which allows you to take your work everywhere with your mobile device.
With teams, users can send text, share documents and run meetings no matter if they are in the same office or working remotely. You can conduct audio, video, and web conferences with just one click with a team of 10 or 10,000 people. Users can collaborate in group chat or can have one-to-one messages.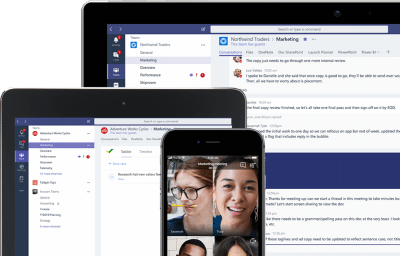 Due to its integration with office 365, you can conveniently access, add document directly to the call and edit or collaborate on your word, excel or PowerPoint files.. To make sure everyone joins the conversation, users can use teams calling, calling plan, or direct routing.
To use Microsoft Team, you will have to buy Office 365 Business Premium package for $12.50/month/user which will includes all key office apps along with their desktop version plus Microsoft teams which will have features related to teamwork & communication, email & calendaring, file storage & sharing and tools to build & manage your business. If you want to pay less, you can also buy Office 365 Business Essentials for just $5/month/user. That would not include other office apps and their desktop version, but you can get MS Teams and most of its features related to teamwork, communication, email, calendaring, file storage and sharing.
2.

Slack: For project management and virtual workspace
Slack is another popular software that allows you to meet your teams in flexible and integrative manner. It also all-in-one tool offering you all basic collaboration features under single roof. With slack you can make sure that your everyone stays on the same page and make decisions faster. It allows users can have one to one private chat, engage in remote meetings, brainstorm, share documents, access archives and collaborate with your team mates.
One of the great features of slack is that instead of having one crowded inbox, it allows you to create channels for each project or team to have a dedicated and uninterrupted workspace where everyone can follow around everything related to that project or job. You can also create announcement channels where everyone can go to get needed updates.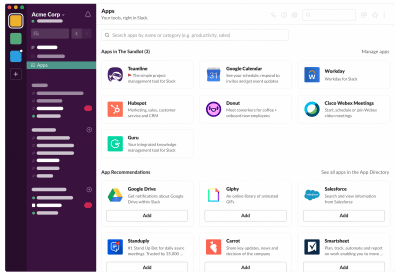 Slack also allows you to automate routine actions and communication so that you don't waste time on tracking down the people needed to get work done, as slack automatically collect and route info to the right teams. You can also sync all your other remote tools like skype, Zoom, Basecamp with Slack, so you receive all your notifications in one place. Following are the packages that you can avail for slack.
| | | | | |
| --- | --- | --- | --- | --- |
| Features | Free | Standard $6.67/month | Plus $12.5/month | Enterprise Grid |
| Access to team Message history | 10K recent messages | Unlimited | Unlimited | Unlimited |
| Integration | 10 apps | Unlimited | Unlimited | Unlimited |
| Video Call | One to one only | Up to 15 persons | Up to 15 persons | Up to 15 persons |
| External Collab | None | Available | Available | Available |
| Screen sharing | None | Available | Available | Available |
| File storage | 5GB | 10GB per team member | 20GB per team member | 1TB per team member |
| Customer support | Standard | 24/7 | 24/7 with four -hour first response time | 24/7 priority support with four-hour first response time |
| Workspace | 1 | 1 | 1 | Unlimited |
For getting price for Enterprise Grid, version you will have to contact their sales team.
---
---
3.

Hubstaff: For time tracking and attendance
One of the great challenges of managing a remote team is to track how much productive each team member is but there are some awesome tools that help you do it like a piece of cake. One such software is Hubstaff which makes time tracking, work monitoring and reporting very easy for you.  Hubstaff has very comprehensive features, for instance, it helps to creates online time sheets and keep track of how much hour's employee work. It has an easy clock in system and it tracks app, URL activity, and mouse & keyboard usage to measure activity levels. Hubstaff also allow manager to manage attendance and scheduling. By using it, one can manage time off, holidays, perform shift planning and set weekly limits.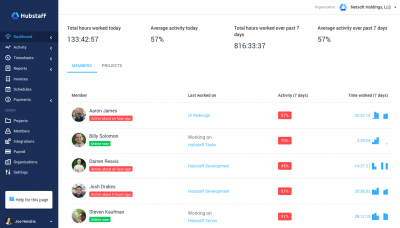 In the free version of Hubstaff you can simply avail time tracking, measure activity levels. In basic version which charges $7/mo/user, you can avail free features as well as 1 app integration and 24-hour support which is not much additional value as compared to free version. However, in premium version which charges $10/mo/ user, you can avail time tracking, measure activity levels set hours for each team member, create unlimited integrations, get 24-hour support, track apps & URLs, track time off & holidays, perform scheduling & attendance, set idle time limit and review & approve time sheet. You can have a free 14-day trial if you are interested in trying it out.
---
---
4.

Asana: For work management and coordination 
Asana is another great cloud-based tool for team collaboration and communication that makes remote working a breeze. It offers all the key features of virtual workplace management including task management, store & share files, conversation tracking, managing team assignments, team productivity tracking, managing to-do lists and project timeline tracking.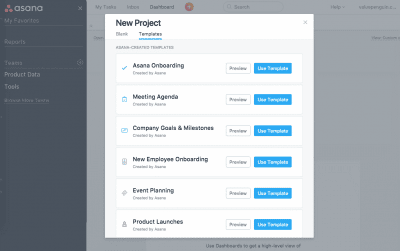 With Asana, you can easily map out and organize your work along with your team mates. It helps you track the workload on each team members in one view. Asana also helps you stay on schedule by allowing you to create and track Timeline for project planning. Asana also has the automation feature like slack which allows you to automatically assign and route tasks to save time. Asana helps you see the overall portfolio of projects to make it easy for you to track progress, review milestones and share status with others. Like MS teams and Slack, Asana also allow you to integrate other apps into it to make tracking your work even easier.
The free version of Asana is kind of basic. With it, you can collaborate with up to 15 teammates, get calendar view and status updates, set assigners and due dates, view list and broad view of projects and integrate with other apps. In premium version of $10.99/mo per user, you get all of this but also get to set timelines and milestones, view progress, perform advanced search & reporting, have unlimited guests and have an admin console. If you want more additional features like portfolios management, workload distribution, proofing and sales force integration, then you can go for business version for 24.99/mo per user, billed annually. You can get free version of both premium and business version before buying it.
---
---
5.

TeamViewer: For screen sharing and remote connectivity
TeamViewer is another collaboration and remote work tool that has wide range of functionality and is considered a complete package. Its chat and VOIP call feature allow you to discuss important things on the go. TeamViewer also has a built-in video conferencing tool that can help you connect with your team from anywhere. It even has an online whiteboard feature which you can use in group meetings. With TeamViewer, you can easily store files and share it with other in a fast and easy way. Using TeamViewer, you can easily do online collaboration by sharing your screen with your colleague in situations like  meetings or for giving some demonstrations or solving some problem. One great thing about team viewer is that it can be used on Windows, mac, Linux, Chrome, or Android.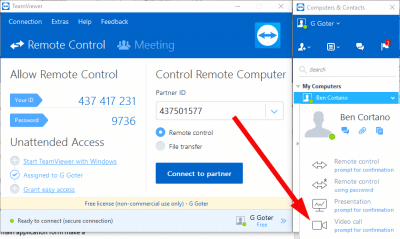 TeamViewer has free version but its only available for personal users like for connecting with friends or family. For business use like connecting to your team or working from home or supporting clients, you will have to buy its licence to unlock extra features. In business license for $39.90/month, you get all features related to access & control computers remotely, custom branding, secure unattended Access, remote printing for Mac & Windows on any printer, file Sharing, manage up to 200 Devices.
6.

Basecamp: For task management & communication
Basecamp is another perfect solution for managing remote teams. It's one of a very user-friendly tool kit that will help you stay on top of everything and keep everything organized and on track. Basecamp helps you with monitoring tasks, doing discussions, posting project updates, sharing documents, creating to-do list, setting dates on shared schedule, tracking milestones and overall team collaboration. One great thing about Basecamp is that you don't need to install any software for using it, you can simply access it on any browser.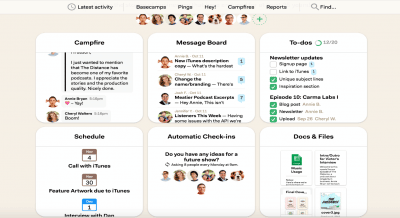 For using Basecamp, you will have to buy paid version, but you can also try out its 30-day trial for free. In paid version, for $99/month you get unlimited projects, unlimited users, 500GB storage space, separate workspace, separate space for each team projects, collaboration with Unlimited clients & contractors and priority support. Unlike other tools like Asana and Slack where you will have to pay per user, Basecamp does not charge per user instead it charges one flat fees for whole team
7.

Dropbox Business: For file storage and team collaboration
Dropbox business provide you not only most trusted file storage facility but also provides team collaboration and administrative tool. It aims at bringing teams tool and data together to create a fluid virtual workplace for you. With this tool, you can create a shared and centralized workspace, create groups, store all relevant data at one place, invite your team to shared folders, manage your team and data from a single access point, add and edit files together in real time, easily review & approve work and manage your projects. Dropbox business can also be integrated with other applications like zoom.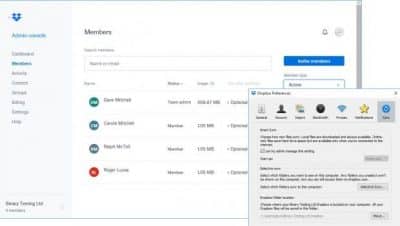 You can buy standard version for US$12.50/user/month, for getting features like 5 TB of space for secure storage, sending files up to 2 GB with Dropbox Transfer, 180 days of file recovery, single admin login to manage multiple teams, admin console, SSL/TLS encryption, user- and company-managed groups, , file locking, office 365 integration and priority chat phone support.
For US$ 20/user/month, you can also buy advanced version which include all of this plus unlimited storage space, advanced admin controls, tiered admin roles, send files up to 100 GB with Dropbox Transfer, including additional customization options, advanced user management tools, device approvals and File event tracking.  A 30-day free trial is available for both of these versions.
Conclusion
The tools mentioned above are just few of the myriad of tools you can find online but these are the most popular and famous ones that can help meet management needs for your remote team quite effectively. Which tool you should choose depends upon your goals, your budget and the key features that you must have. If you have hard time deciding which tool to use, you can run a pilot and try out trial version of the tool you find most attractive and find out if it suits your need or not.
---
---