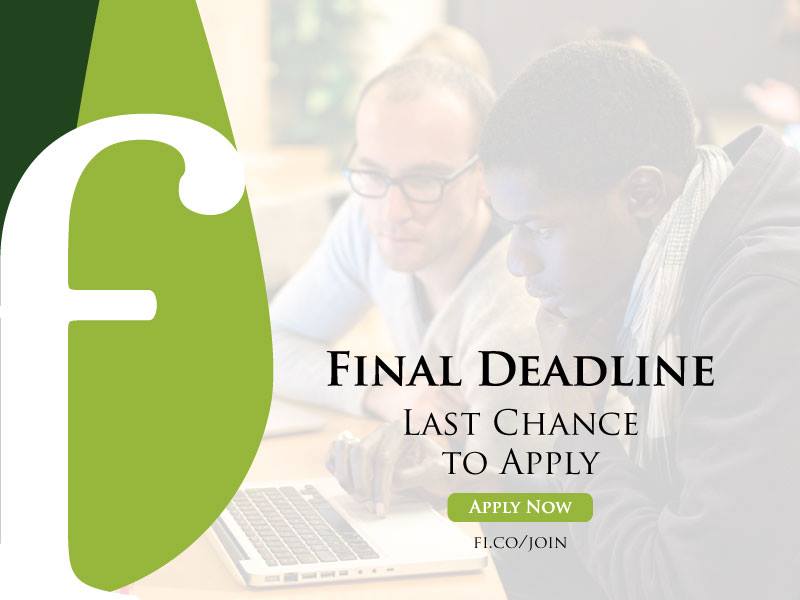 The Founder Institute is the world's premier

idea-stage accelerator

and startup launch program from

Silicon Valley

.
It doesn't aim to create business replicas or low-level startups. The mission is to equip real-time founders with the skills needed to create a globally recognized startup which creates a million jobs.
There are numerous other programs out there that accept everyone and promise easy success. Founder institute doesn't make such promises. We promise an advanced learning experience which is needed by every founder to prepare him for advanced and competitive environment.
---
---
It stands out amongst others because of extremely rigorous and pragmatic curriculum which is created specifically for serious entrepreneurs who are ready to receive open and honest feedback and embark upon a painstaking journey to create a globally-acclaimed startup. Only 35% of the participants make it through this program! If you are not living up to the requirements of the program you'll be asked to leave the program.
Syed Muddassar Abbas – Founder & CEO Maalik.pk explains how Founder Institute helped him to scale.
Our methodology is not restricted to just providing theoretical knowledge but to create actual and life-like situations for participants to test the assumptions about their ideas. This program is unlike any learning experience because of its well-crafted strategic learning. It is designed to push founders to understand the nature of teal hardships they are going to face and prepare them to tackle them.
Founders go through extremely advanced psychological and practical testing mechanisms devised by leading psychologists and field experts to find out if you have the entrepreneurial DNA in you or not. Founders delude themselves by being satisfied that the strengths they have are the only ones that matter. This program is designed to detect the weaknesses of individuals and cater them individually to eliminate those weaknesses.
Founders are often overly attached with their idea and think everything about it is perfect. This program is here to shun every optimistic misconception that founders have about their idea. This program pushes them to test every assumption they have about their idea by giving them multiple chances to test it practically. Exercises may include talking to a random stranger in market about your idea to analyse its worth etc.
One of the biggest flaws in Pakistani entrepreneurial ecosystem is the detachment from skilled industry experts and other successful entrepreneurs and investors.
This program provides an opportunity to connect with the leading personnel from industry and investment niches. Imagine a one-on-one interaction with a leading investor. Graduates have said that this program has helped founders connect with desired co-founders too.
---
---
The most heard complaint by founders is that could have avoided wasting all that time. Imagine the guided learning process where you engage with industry experts, investors, and founders all at once which would take many years if one tries on his own. You'll get to learn that in just a period of 3.5 months
Founder Institute's alumni proclaim that they have also come up with new ideas with the help of this program and if you have a sleeping entrepreneur in you, Founder Institute promises to awaken it!
Founder Institute is currently operating in more than 60+ countries and 150+ cities worldwide. Just in 2016, four companies acquired funding and raise $100+ from investors like Y Combinator, Techstars and 500 Startups. Founder Institute Islamabad graduates includes DealSmash, Talk Health, RiseMom, AppsGenii Technologies, Mobiup and TouchD.
The semester is just the beginning, the post-graduate support includes access to FI Worldwide network of 2300+ startups and and 9,000+ CEO Mentors, investment support, and invitations to exclusive FI events.
If you have an idea which is still premature or you are looking to solve an existing problem in an innovative way or you are looking to learn everything that help startups scale including business model, marketing and legal procedure all at once, Founder Institute says this is the opportunity you always have been looking for.
In Pakistan Founder Institute program is only offered in Islamabad. Founder Institute Islamabad has previously conducted 2 semesters successfully and it is going to conduct its 3rd semester. Hurry up and sign up for the ultimate startup acceleration program as the deadline is 26th November.
Disclaimer: This article was updated by Yusra Qasim, courtesy of Founder Institute Islamabad