Disclaimer: This Article is updated by
Yusra Qasim.
---
Entrepreneurs

everywhere face numerous challenges and one of them is that they

lack the skills

required to

build their startups

.
Yes, you can always hire employees, but that requires money that you probably don't have and the people hired wouldn't be doing anything that you couldn't already do. That's where finding the right co-founder that compliments your skills, comes in.
---
---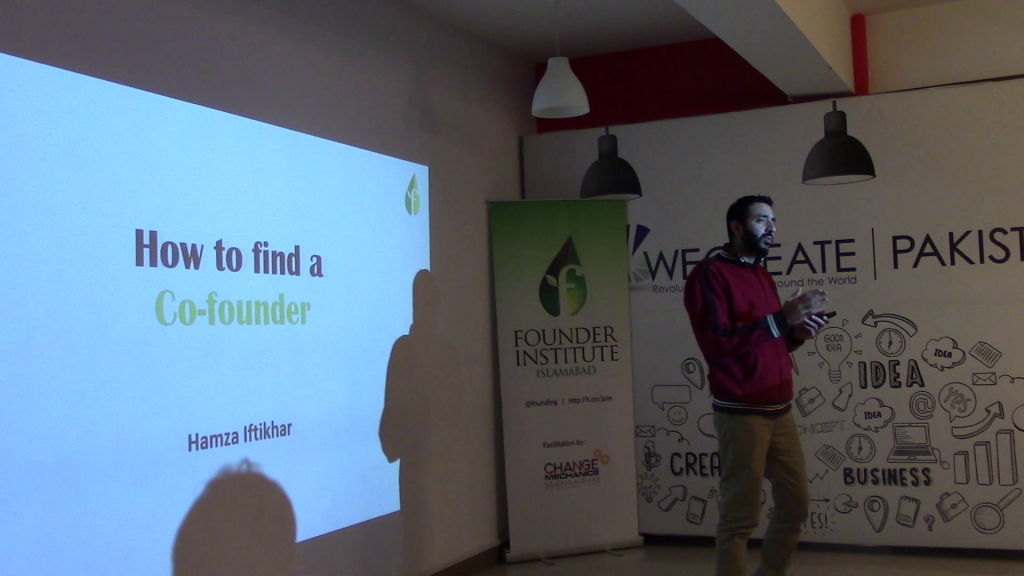 Recently, Founder Institute Islamabad held a session in collaboration with WECREATE Pakistan on finding the right co-founder. Graduates of the Founder Institute with up and running startups; Hamza Iftikhar (Dealsmash), Ahmed Sajjad Zaidi (Iris.pk), Talha Ahad (The Centrum Media), and Adi Abdul Wahab (Digitacker) talked about what's important when you are looking for a co-founder. Although, finding a person that fits the bill is tough, we do believe that having the right approach can be very helpful.
---
---
Summed up below are four main points that you should keep in mind before you go out to hunt;
1.     What to ask when searching for a co-founder?
Finding a co-founder takes the same energy as finding an investor. So when you do find potential co-founders, having all the right questions ready is a must. Nobody wants to ask tough questions later down the path as things can get ugly. How experienced are they? Are they passionate? Would they be willing to put in all their time and effort into your idea? Make a list of all the things you want in a co-founder and never hesitate to ask any of them. Even go a step further and ask any question that comes to mind.
2.     Where do co-founders grow?
A crucial point to be noted when looking for a co-founder is that you are looking at the right place. So start by looking in start-up gatherings such as start-up grind, start-up weekend, start-up cup etc. Make sure you network at these events. This is a massive opportunity as these places are usually filled with like-minded people. Universities are another great hub for searching for a co-founder. Researchers working on the latest technology are usually interested in implementing them in real life. Graduates working on ground breaking technologies with the entrepreneurial mind-sets are a good group to search from if you're looking for young and fresh minds. Last but not least are social gatherings. Attend gatherings where the chances of meeting like-minded individuals are high. Long story short – Always be on the look-out!
---
---
3.     What to look for in a co-founder?
The top three attributes in a co-founder would have to be Trust, Care and a Vision because without these there is no way you can begin such an important relationship. What you need next is completely dependent on the things you require but remember going with a person that supplements your qualities and not replicates them is highly crucial. For example, you belong from a business back ground and your idea revolves heavily around technology, then looking for someone with technical abilities and experience would be the best way to go and vice versa. But some other important attributes regardless of professional expertise include hustling, good work ethic and passion. Any other attribute that can be added can be one that is personally important to you.
---
---
4.     What kinds of people make bad co-founders?
We have all met someone who talks a big game but fails to deliver when the time comes. This kind of person is exactly what you need to stay away from. Another form of this person is someone who delivers but only half way and they are even worse! 'Leaf in the wind' is a good phrase to describe the next person we suggest you stay away from. These people always fail to show up when most needed. You should also be a little guarded about the ancient being posing as a recent creature, because no matter how much experience he brings to the table, if he can't adapt to the times, he is not worth it. Last but not least is someone with low energy. Start-ups are all about excitement and energy going through the roof, if he is not energetic, chances are he'll just hold you back.
---
---
Conclusion
Although there is no secret formula to finding the right man for the job, one thing is for sure that you should choose a co-founder as you would choose a spouse.
---
---
---