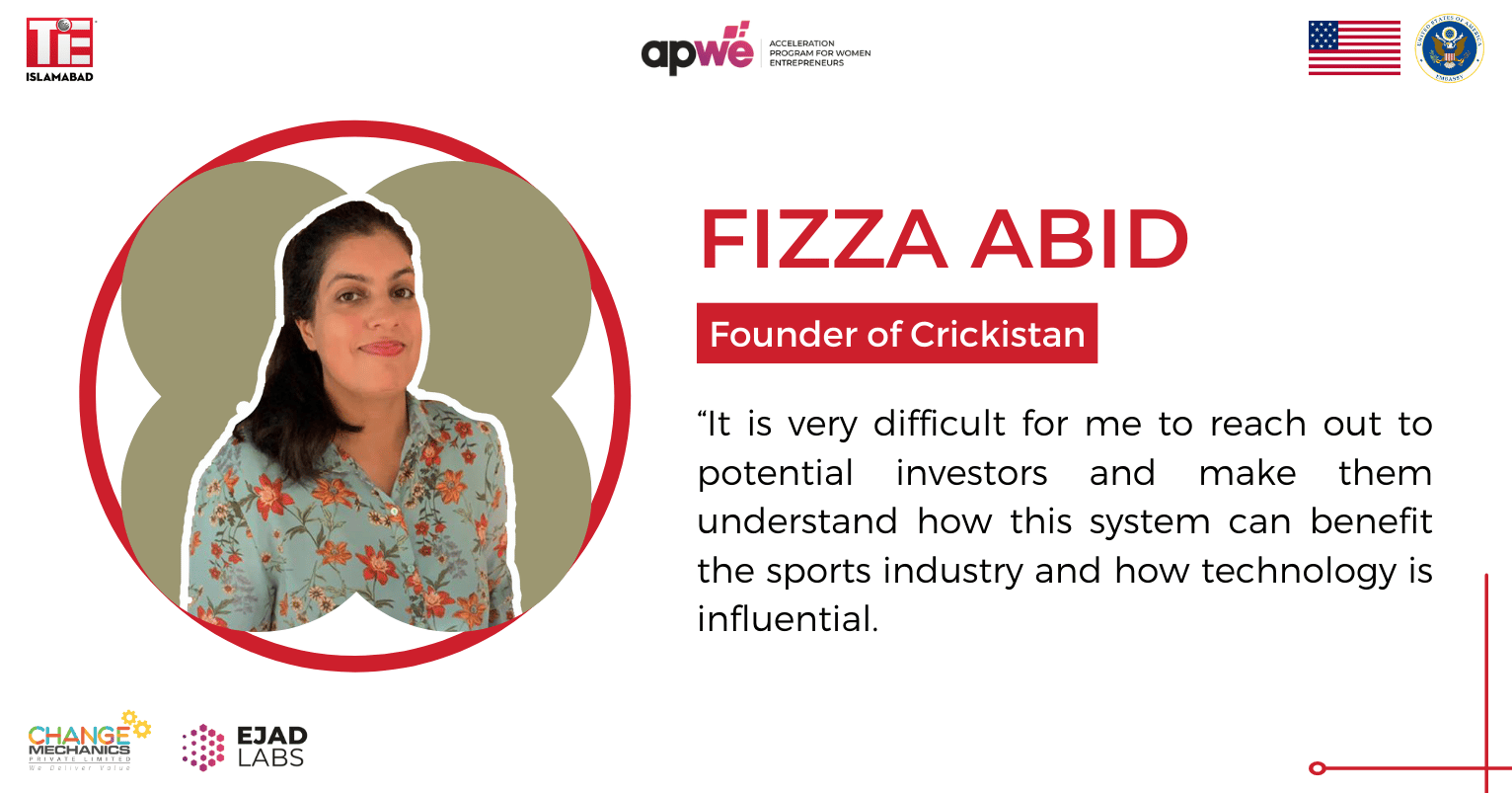 Idea Behind Crickistan
"I faced an injury that ended my cricket career." says Fizza Abid, first female from Pakistan and South Asia to have attained a first class sports management degree. "This setback made me realize if I had a system which would tell me about my progress by keeping me updated on vital performance metrics like fitness, technical performance in the game, injury prevention and medical data, it could have saved my career." Fizza is the founder of Crickistan (Athlete Management System) which is an AI-based centralized platform that helps coaches and management in organizing and generating insights from players' data and provides players with insights into their performance from all vital areas like match and training performance, fitness, medical information, assignments, wellness and communication. 
During her studies, Fizza conducted research on women's cricket focusing on the influential factors that are instrumental in helping cricketers improve their performance. "That is when I came up with the idea of Crickistan. All my life I wanted to play for Pakistan but I could not. A system like Crickistan could really help women cricketers in the country and perhaps other sportsmen globally." said her.
Athlete Management System
When Fizza came back to Pakistan in 2019 after completing her MSc in Sports Management from the Loughborough University, UK, she was approached by the Pakistan Cricket Board. She worked for them on a contractual basis managing the under 18 women's national cricket team. "Having that insight into the system and getting to know how players operate and the challenges they face, helped me in devising a system." says Fizza.
"Basically Crickistan is focusing on making technological solutions for the sport of cricket by identifying and solving the problems that exist in Pakistan's cricket and potentially on the global level." she added. There are international organizations that provide in depth on-field data analysis like for bowling or batting. Circkistan on the other hand focuses on the overall picture of a player by taking into consideration the factors that influence his/her development. "Crickistan is not just your technical performance but it is also your fitness, it is also your nutrition and psychology. It is all of those aspects which have an impact on your overall performance." says Fizza. In future Circkistan wants to focus on injury prevention especially for female athletes. This is how it differs from the market.
Entrepreneurial Journey
Fizza was always fond of playing cricket and becoming a professional player. She says she could not imagine pursuing a professional path that did not in some way connect her to cricket. She says that back in 2014 there were a very few opportunities. " I remember that the last gymnastic tournament took place on the regional level back then." she added. While playing professionally she found out that there was no contributive role on the other side of the sport i.e. the management side. When Fizza got injured she could not play professionally anymore. It had a huge mental toll over her. Since she had a degree in Software Engineering, she started work in that field  but she mentioned that "When I started working in the field it became clear that I could not stay away from cricket. Before my injury I took it for granted as my game was effortless.". Since she could no longer play and was unable to stay away from the game she thought that being a professional athlete was not the only way she could make contribute and create opportunities for female cricketers, she could also get involved in the management side and improve the condition of the sports in the country by utilizing the latest knowledge . She applied and got a scholarship in a renowned university in London to pursue a purely sports degree remaining true to her passion. Fizza also represented Pakistan at ICC World Cup At Lord's.
What does Crickistan do?
Crickistan is an AMS (Athlete Management System) that works for both cricket players as well as cricket management organizations. For players currently it's a web platform and a mobile application. It is a data management tool which stores psychological, medical and fitness data of the players and calculates how they are progressing over the period of time. It helps players see a complete snapshot of their growth and performance, based on all these factors. They can gauge where they stand physically, mentally and nutrition-wise. For cricket organizations be it coaches, fitness experts or other relevant stakeholders, the data analytics and data management provide the tools for better management and insights. "The problem that Crickistan solves is that organizations are currently storing data on excel sheets. This system provides them with a centralized platform where they can communicate with all the stakeholders, for example physiotherapists in real time with data informed insights." says Fizza. In the future, Crickistan also aims to provide consultancy services with several health/fitness experts through its platform.
Prototype
Crickistan's prototype is already being used in two cricket academies currently; Shalimar Cricket Academy and Bajwa Cricket Academy. Thirty to forty players have registered. The developers are hoping to monitor how players are responding to it and the sort of data they are receiving on the platform.
More About Founders and Crickistan
Fizza is currently enrolled in the 100% Cricket Future Leaders Programme of International Cricket Council. It is  a mentorship programme for all female future leaders in cricket as part of their long-term commitment to accelerate the growth of women's cricket and women in cricket. 
Circkistan also has three male founders. Osama Zeeshan is a machine learning engineer, Ahmed Raza is the Chief Developer at Crickistan while Salman Afzal is the Chief Marketing Officer. Since Fizza has a technology and sports background this when combined becomes a great combination for her role at Crickistan. Fizza is mainly involved in the networking side, design of the system and deciding which features should be a part of the system.
Challenges and Future
"My system is related to the sports industry which itself is a challenge as it minimizes the market." says Fizza. "It is very difficult for me to reach out to potential investors and make them understand how this system can benefit the sports industry and how technology is influential." she added. Globally in countries like America, New Zealand and Australia, technology is playing an instrumental part in the sports industry but in Pakistan it is fairly new. Being  perceived as a female cricketer who wishes to promote female cricket is also a challenge for Fizza. "When you say you want to help the women's cricket to grow they are like 'Eh? Women's cricket?'. But I am passionate about this and I can see where it can help the game overall." says Fizza. 
The platform can help everyone, even differently-abled cricketers and the possibilities are immense. Fizza says that Pakistan's Women's Cricket Team ranks 7th in the world which is one reason why she wants to prioritize it. "The men's cricket gets the attention already. It has more facilities and I believe women's cricket can boost better through this system." says Fizza.
According to Fizza, the biggest challenge in Pakistan is the lack of selection models for cricketers. Fizza believes that the selection process is not technologically driven. "Selections are made on phone calls. We want to produce effective selection models which can predict best delivery. Hence the mindset and culture has to change. ". Crickistan aims to focus on the fitness and the medical side of their system in the future by taking on board experts. In the future it can also be a performance monitoring tool like fitness watches. The possibilities are immense. One of the founders' short-term goals is to make it work for cricket academies. "In five years I want to see it being used in at least two developing countries' associate cricket boards." said Fizza while talking about her long-term goals.
Crickistan is seeking investments in order to upscale its development and market the product further. The platform needs resources in order to convert the prototype into a fully functional product. The founders believe that technology is crucial in sports and AI-based models like this need to be adopted in order to enhance cricket. Lack of utilization of technology in cricket is a hurdle for Fizza which she believes can be overcome with time. "I combine my passion for both technology and cricket by living up to what I have always wanted to do." said Fizza. "Only you have to live with your life and your decisions. You need to work hard everywhere. So why not where your passion lies" she added while talking about her professional life choices.