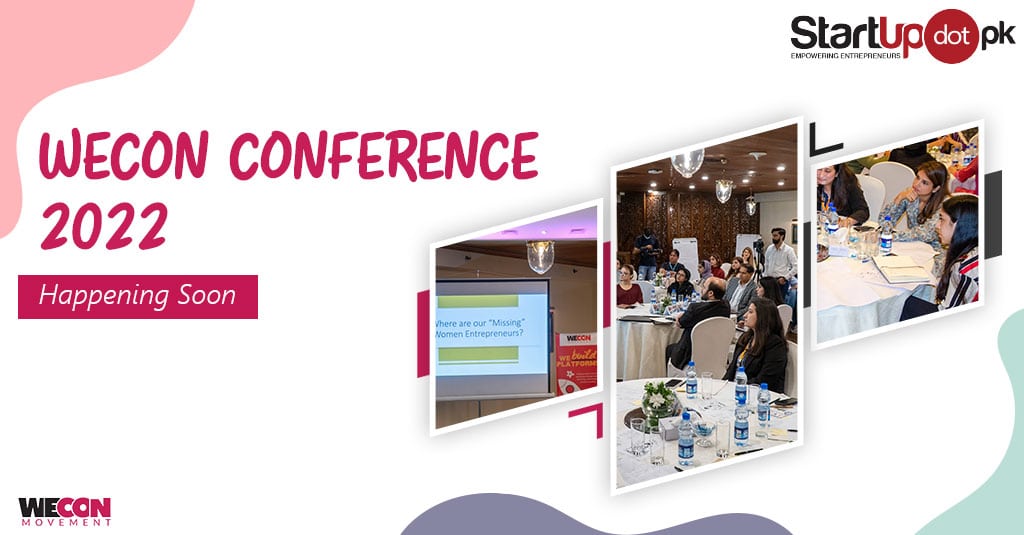 "WECON Movement is designed to empower the women of Pakistan by linking them with entrepreneurial opportunities and giving them access to a better livelihood. It is aimed at building collaborative networks of like-minded people and organizations, to share knowledge and best practices to ensure we can work towards the unified goal of empowering women through entrepreneurship."
WECON Conference:
WECON Movement was founded with the mission to generate opportunities to celebrate women entrepreneurs on a national scale. It has provided a one-of-a-kind opportunity to network, engage, inspire, and be encouraged. The Movement is improving every year with increasingly more insightful and meaningful content. WECON is an inspirational learning platform, with thought-provoking keynotes and panel discussions inspirational wonder women, and pitch sessions from women-led enterprises.
The inaugural WECON was conducted in 2017. Its purpose was to bring together a veritable "Who's Who" of Pakistan's entrepreneurial ecosystem. WECON'17 featured in-depth conversations with ecosystem creators, incubators, accelerators, government organizations, and new businesses, in addition to giving a forum for recognizing our women entrepreneurs.
The second WECON 2018 was a collaborative effort by Change Mechanics (Pvt) Ltd and GOAL Training, and it was sponsored by USAID's Punjab Youth Workforce Development Project. This conference provided opportunities for learning and networking among startup ecosystem enablers and related stakeholders in preparation for future collaboration.
In keeping with tradition, WECON 2019 featured the ideal blend of motivating and inspiring speeches, in-depth debates on women's entrepreneurship and its future, and a dash of light comedy for good measure. WECON'19 aimed to unleash the power of Khudi for our female entrepreneurs to own their environment and become the heroes they were always intended to be. As part of this project, WECON Tribe and WECON Portal were introduced.
2022: WECON had a strong start to the year 2022 in its initiatives to foster entrepreneurial spirits and be a change catalyst. The "Mumkin Hai Stakeholders Conclave," WECON 2022's first collaborative event, took place in July. This session was intended to bridge gaps between various stakeholders, get their perspectives, and work actively to create an inclusive policy that encourages female entrepreneurs. It offered a space for players in the entrepreneurial ecosystem to meet and exchange best practices, case studies, and problems, as well as get knowledge of the numerous activities taking place in Pakistan. A collaborative policy framework was intended to be formed by the conclave's conclusion.
The Stakeholder's conclave and previous WECON conferences have been a huge success in terms of boosting awareness of and encouraging women entrepreneurs, therefore it's vital to keep the narrative going. WECON is launching WECON 2022 'Mumkin Hai', which focuses on the endless potential and strength of women. It aims to discuss how important it is to have a strong and supportive environment in place. It will illuminate how we can create that strong and supportive atmosphere, as well as how we can all be enablers and change agents.
The conference is set to take place in December 2022. The Stakeholders Conclave highlighted how important it is for different organizations to engage and communicate in order to sustain a thriving entrepreneurial ecosystem. WECON 2022 thus places a strong emphasis on activities, discussions, and sessions that will foster greater connectedness among many stakeholders and offer great promise for ushering in a wind of change.
WECON has fostered inspiration among conference participants from its start by sharing inspiring women's stories who have fought all difficulties and achieved outstanding success.