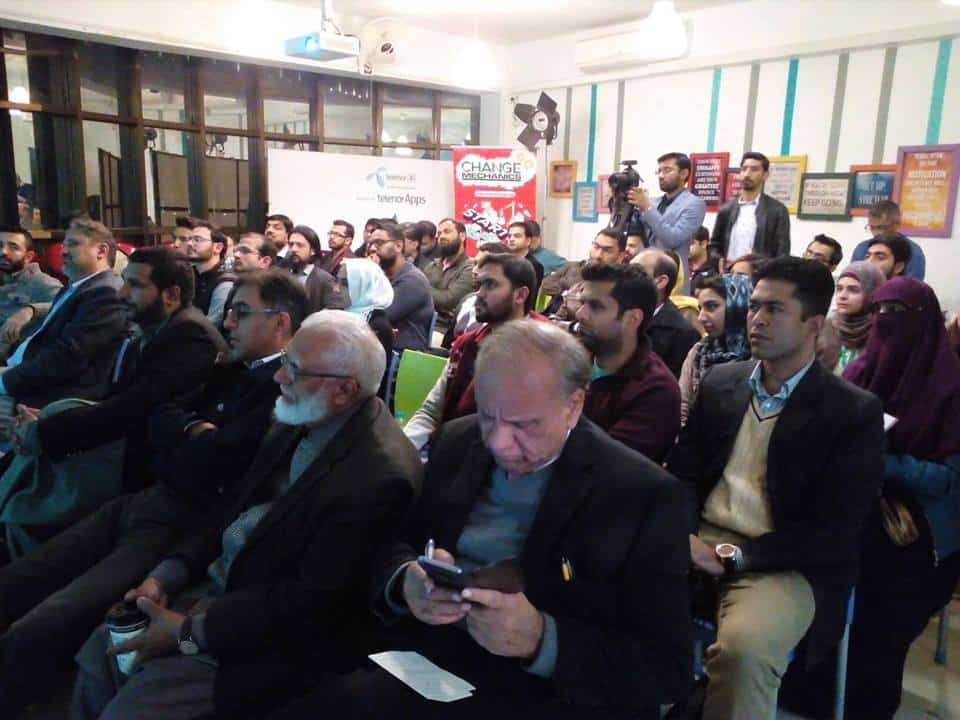 Disclaimer: This Article is updated by
Yusra Qasim.
---
Islamabad, Dec 22: Seminar on

'Artificial Intelligence'

, organized by

Change Mechanics

, held at

WeCreate Centre

, Islamabad.
The second session of 'The Disrupt Series' included Prof. Engr. Dr. Muddassar Farooq – (globally acclaimed researcher, Founder- NextGEN RIC), Farhan Zaidi (Software Architect), Asim Ghaffar (Vice President, R&D, LMKR), Muddasir Zaidi (President R&D wing, Data Science Team, GDC), Muhammad Ali (Founder-Naseem), Sarwat Fatima (Data Scientist at Dealsmash), and Hamza Iftikhar (Co-Founder, Dealsmash).
Change Mechanics works on providing the platforms, knowledge exchange programs, mentoring & training services to aspiring entrepreneurs, government, industry and academia for fostering innovative and entrepreneurial thinking and building strong academia industry linkages.
Mr. Sayyed Ahmad Masud, CEO Change Mechanics enlightened the audience about "The Disrupt Series" by Change Mechanics which aims for business leaders, technology enthusiasts and students from all sectors to learn about the far-reaching impact of the 4th industrial wave on the future of work, education, health, governance and entertainment.
---
---
From Apple's Siri to Boston Dynamics' Sophia AI has increased dramatically. Many world-class firms are investing heavily in AI and machine learning. Speaker agreed that Pakistan will benefit greatly because of the use of AI.
The session shed light on why upcoming scientists need to prioritize AI. People with computer background should give AI a chance as it holds great promises ahead.
An Interesting point highlighted in the seminar was that teachers need to change their approach and stop making maths a boring subject for students. They have to find a way to communicate the relevance and prospects of mathematics. A person who is good at mathematics can become an algorithmic wizard. Students should also play their part as learning is always a mutual process.
---
---
The seminar clarified a number of myths associated with AI and its doom-like applications and how it is portrayed as something with no bounds and limits. They said, Yes! it can take a negative direction but we can control and make is something which will become the biggest and most advanced human aide. The focus of AI should not be to create robots just for the sake of defeating people in games. It is a short-sighted and naive application of a technology that is larger than life and one of its own kinds. The direction AI should take is to collaborate with humans and eliminate real world problems like health, education etc.
A very negative connotation is associated with any emerging technology just because of few individuals who would make negative use of anything whether it's tech or non-tech. We need to welcome technology as it has already made our live significantly better. Just take a look at your phone and see how much of your life can be managed on your fingertips.
In Pakistan, AI is also taking its baby steps. Some revolutionizing examples in AI are created by Pakistani founders including Naseem – an AI powered digital tutor which is available 24/7 for students and learns itself how to teach better after every transaction by analyzing student behavior. Dealsmash also uses AI to send customer specific and targeted market offers.
A panel moderated by Mr. Asim Ghaffar discussed how AI will affect and enhance different sectors like education and business. They explained how some industries will be disrupted and because of AI and they can benefit greatly because of it just like Amazon with Alexa. Disruption is not optional. It is inevitable. Sooner or later everyone will have to embrace it. An interactive Q&A and networking session allowed the participants to gather more insight on AI from the experts themselves.
Overall, under the mentorship of learned and experienced guides, start-ups can learn and grow. The potential in Pakistan is exponential and incorporating AI we can take a step ahead into the global markets.
---
---
---
Disclaimer: A portion of this article first appeared on The News.