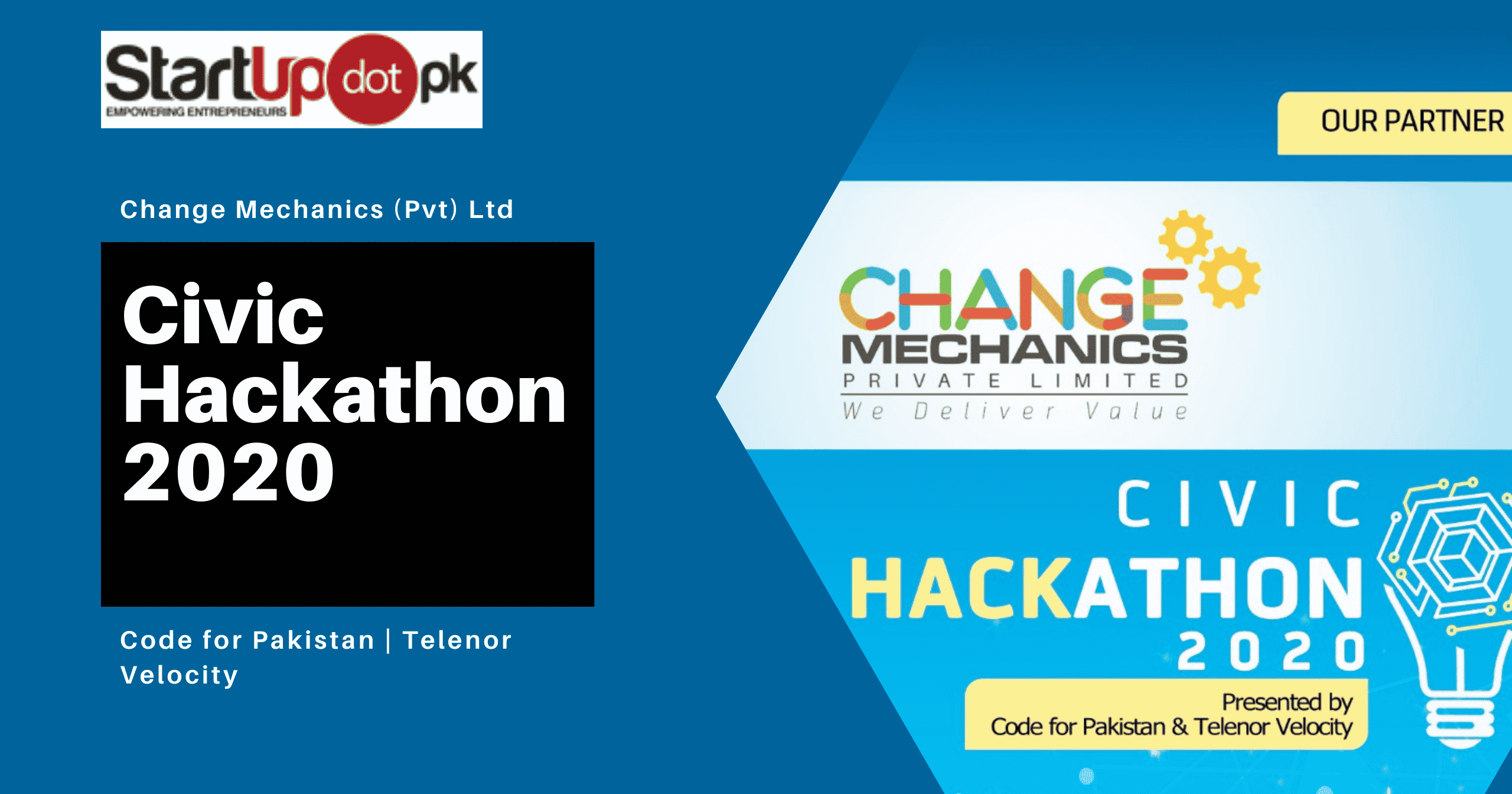 Calling all Startups for an amazing opportunity!
Change Mechanics (Pvt) Ltd., Code for Pakistan and Telenor Pakistan are bringing an opportunity for startups this year. So, gear up to cap this year with an innovative solution using technology and creating a social impact.
Civic Hackathon 2020
This year, for the first time, the Civic Hackathon will take place virtually over a duration of one week in December. This Hackathon provides an opportunity for YOU to come together and develop innovative solutions that have a positive social or civic impact using technology, data, and digital tools.
Important Dates:
Deadline to apply: 27th November 2020.
Hackathon Week: 4th December 2020- 13th December 2020.
---
---
Theme for 2020 Hackathon
This year's themes include:
Eductaion
Environmental Sustainability
Fintech
Food Security
Health
Public Safety and Security
Who can Apply?
Individuals, including but not limiting to those falling in the following categories:
1. Technologists
2. Designers
3. Urban Planners
4. Social Scientists
5. NGOs and CSOs
6. Government Representatives
If YOU have a great idea that can create positive impact in your community and address pressing social challenges, then apply right away.
If YOU have skills in web or mobile development, design, mapping, data analysis, research, subject matter expertise in the civic space, then you should definitely apply right away!
Registration
You can apply through registering for the event. Fill the form and submit it before the deadline to be a part of the Hackathon!
---
---
Powered By
We provide the platforms, knowledge exchange programs, mentoring & training services to aspiring entrepreneurs, government, industry and academia for fostering innovative and entrepreneurial thinking and building strong academia industry linkages.
Telenor Velocity is the first of its kind, 4-month, go to market accelerator program.We have designed 4 months program around Telenor's scale and assets to help entrepreneurs grow their companies.
1.Access to Mentors & Investors
Startups get access to our excellent network of "Experts from Telenor Pakistan" and "Seasoned Mentors & Investors"
2.Co-Working Space:
Co-working Seats for startups (Maximum 3 per Startup) in Islamabad.
3.Access to Customers:
Finding the right customers for the startups and helping them reach them via SMS campaigns and digital distribution.
4.Payment Solution:
With Easy Paisa's large financial footprint in Pakistan, startups will get access to world-class online payment solutions.
5.Chance to Pitch for Seed Funding:
10,000 USD seed funding for one startup based on pitching and evaluation.Equity for the seed funding will be negotiated separately with the startup.
We're a non-profit building a non-partisan civic innovation ecosystem to improve quality of life across Pakistan. We believe that digital technology, when used correctly, can both improve governance and open new channels for citizens to more meaningfully engage in the public sphere and have a positive impact on their communities. Through the creation of open source technology to address civic needs, we aim to transform civic life by increasing civic engagement, encouraging the opening of government data, and supporting innovation in the public domain.
---
---