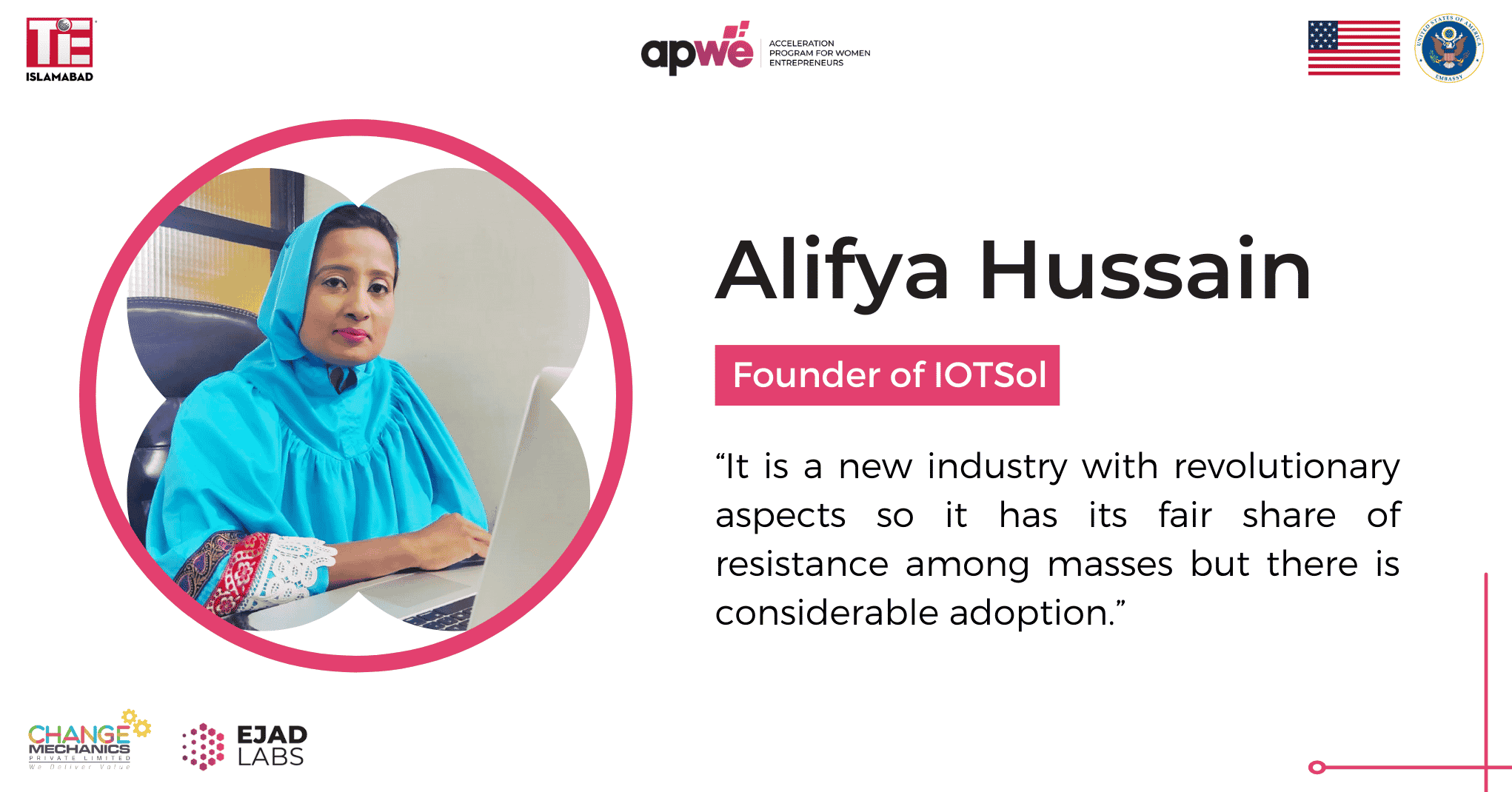 The Internet of Things (IoT)
The Internet of Things (IoT) refers to a system of interrelated, internet-connected objects that are able to collect and transfer data over a wireless network without human intervention. IoT helps you track and count everything, and helps in reducing waste, loss, and cost. Through IoT you know when things need replacing, repairing, or recalling, and whether they were fresh or past their best. This is what makes IoT a cutting edge technology which is rapidly changing the world that we live in. It is included in the fourth industrial revolution aka Industry 4.0.
IoT devices save time and money for businesses and personal lives. Companies in all fields are benefiting from IoT. There are expected to be over 25 billion devices connected by the end of 2021 and over 50 billion devices by the end of 2030. While the leading first world countries are moving from smart homes to smart cities, in Pakistan the idea of IoT is still not very popular. Hence the country has a lot of catching up to do.
"The idea of smart homes is there in Pakistan but people are still unaware of what differentiates IoT from simple automation." says Alifya, founder of IoTSol. She is the contestant of Accelerator Program for Women Entrepreneurs (APWE). APWE is an initiative for women who are operating a business or partnership, a social enterprise or indigenous enterprise, supported by the US Embassy in Pakistan in collaboration with TiE Islamabad, Change Mechanics and Ejad Labs. 
IoTSol
IoTSol is an IoT software company in Pakistan developing IoT systems providing software and hardware integration. IoTSol offers IoT devices to homes and industries enabling smart buildings, homes, water management and production tracking. Alifya is the company's founder along with three male counterparts. She has been passionate about learning about technology from a very early age. She was able to pursue her interest in technological inventions even after getting married at the age of 18.
She continued her studies and later ran a clothing business with her husband. Throughout this time she has also attained several certifications in project management, coding, entrepreneurship etc. Wherever she worked, she always had this drive to technologically enhance systems in a way that would require minimal human intervention. "I stepped into the IoT world from a very young age," says Alifya. "It has been a year since I founded IoTSol and we are growing at a very rapid pace. From product development to market launch, everything has been promising so far. " she added. What sets IoTSol apart from other IoT software companies in Pakistan is that everything is manufactured in Pakistan.
"We wish to revolutionize the market by offering a regional product. We have our own labs and our own Quality Assurance department." mentioned Alifya. She says the company has built everything from scratch. Where she takes pride in it, she says there is a general reluctance in customers towards products that are made in Pakistan. "If they see a 'Made in Japan' or any other country's tag, they would be willing to invest. But for a locally produced product, there is a huge lack of trust. This is something that we wish to change by providing a quality product." she added.
"We are four partners specializing in fields of IT, communications and security who have worked in-house with minimum resources." says Alifya. "When we started off we thought it would be very difficult to make people aware of the IoT technology and to push it past the masses. Yet I would say there is at least some awareness regarding the concept of 'smart homes' that are automated." she added. Where automation is a part of IoT, both terms vary. IoT is the interconnection of devices via the internet, allowing them all to send and receive data, without the need for human interaction. Automation alone refers to appliances and devices that are automatically controlled, often with a mobile phone." People think that a smart home would mean they would just turn the things on/off from anywhere. That is just automation. An IoT smart home would tell you when you will run out of water or when any of your appliances needs repairing or maintenance. It has the striking feature of predictive maintenance." says Alifya.
"People are coming towards this technology as the market is huge; manufacturing industry, builders as well as the homes. They know that this would eventually be the future." Says Alifya. An IoT equipped manufacturing unit saves a lot of cost but it is still a huge investment. In Pakistan there are a lot of international players in the market that provide IoT products for example SONOFF, TUYA and CONTROL4. In automation there is a Pakistani startup named Asani. But rarely any, offers devices that are purely made in Pakistan.  "If I talk about competitors, we have a huge competition in automation but in IoT there are not that many local competitors only international ones that are very expensive." she added. 
According to her, being a tech startup,  that too in a very advanced domain like IoT is a challenge in  itself, as one has to stay motivated and consistent. "It is a new industry with revolutionary aspects so it has its fair share of resistance among masses but there is considerable adoption." said Alifya while talking about the challenges her startup faces. The fairly sufficient adoption of automation is the step in the right direction. IoTSol does not have any female employees except for herself. She says she had to face many obstacles because of a lack of representation of her gender in the market but her partners make up for a great support system.
"Our goal is to create a regional product that has its roots in aggressive local  testing and quality assurance procedures." says Alifya. She is of the opinion that IoT is the solution for many problems that citizens of Pakistan face like that of water supply and shortage. IoT devices help in identifying water supply shortages and water consumption safety precautions that need to be put in place. IoTSol is also envisioning a system where a device would automatically order a water tanker when needed. "Smart homes may be considered a luxury but it solves basic problems like that of shortage of water. And the cost is very minimal" says Alifya. 
Pakistan is primarily an agricultural country and can use Internet of Things in the field of agriculture. It could offer things like monitoring crop health, irrigation, spraying and planting or drone seeding. IoT is applicable in every industry that one can possibly think of. Where IoT literacy is a challenge for IoT companies in Pakistan, forward looking industries with budgets or specific challenges (that can be solved through smart technology) have started evaluating the shift to IoT. Similarly across the barrier of awareness there is hope within the household consumers to adapt to the IoT technology and change their operations on a 180 degrees shift.
Alifya believes that programs like APWE are a great way for startups to scale. Her startup can achieve its 5 years goals in 2 if she is able to make it till the end. Besides that she is of the opinion that APWE has offered great mentorship which has helped her have clarity in her destination as well as the steps she needs to take in order to get there.