In today's fast paced world, our priorities are changing day by day. Technologists are catering to the needs of twenty first century people by providing them as many services as possible; inventing different apps and bringing everything to our mobile devices.
The app was launched on January 7th, 2016 and according to Saad it currently has 1500 users and more than 350 doctors on board. Health care apps are very popular around the globe but a relatively new concept in Pakistan. Saad Siddiqui an economics graduate from SZABIST (Karachi) created a healthcare app, Find My Doctor which helps its users to find doctors, book appointments, get daily health tips and find blood donors in case of emergencies.
 Q: As you are from an Economics background. How come you ended up making an app in the Healthcare category?
A: Few months ago, in 2015 I was surfing Google play and checking out different apps. When I entered the healthcare category, I realized there was not a single authentic/genuine app from Pakistan in this category. All I came across were fake apps like, "How to increase your height", "How to increase your masculinity" etc. So I decided to launch an app, particularly keeping in view this void. Healthcare apps are extremely popular worldwide. Most people use them to keep a check on their daily diet, medicines, to find doctors or in some cases even get doctors to prescribe medicines.
Find My Doctor is currently based in Karachi and has plans to cover other cities of the country in future 
Q: How long have you been working on this app?
A: I started working on it in November 2015 and launched it after two months in January 2016.
Q: Great, two months is a relatively short time. Are you doing it all alone or do you have a team assisting you?
A: No, I have a team of three members. During these two months we did our research, approached the doctors and worked on the development of our app. We put vigorous amount of efforts in these months.
Q: What expertise do you have and how have you divided roles among your team members?
A: Well, I have knowledge in the social sciences side so I conduct all the meetings with the hospitals, its doctors and explain them our ideas. The other members have expertise in software engineering, business and development. Alizeh Babar is managing the designs, Danish Khatri is working on Business Development and Hussain Taher does the software work.
Q: How many doctors have you approached up till now and did you face any challenges since most of the doctors are not really tech savvy, were they convinced with the idea?
A: Well, we have more than 350 doctors on board with us. You are right about them not being tech savvy and we had a hard time getting the idea across. Even though we approached many doctors not all of them were willing to work with us for various reasons.
Q: What kind of reasons made them hesitant?
A: We put the address, timing, and contact information of the doctors on our website. As you know the current security situation in the city of Karachi, so some doctors were reluctant about displaying their information publicly. It is a hard reality but we had to accept it.
Q: How do you deal with it?
A: Well, we respect the privacy of each person working with us. We approached other doctors who didn't have such concerns.
As a safety measure, we are not displaying the pictures of any of the doctors.
Q: We have heard and came across incidents where people made fake identities and portrayed themselves as doctors.  So how do you ensure every doctor's academic qualification, what is the recruitment process?
A: We authenticate this information. The Pakistan Medical and Dental Council gives a medical number to each doctor, so before bringing a doctor on board we verify this number. For Nutritionists there is a separate organization called Pakistan Nutrition and Dietetic Society. All the nutritionists on Find My Doctor are certified from there.
Q: Are you self-funding your project or do you have any investors and what is your revenue channel?
A: We don't have any investors right now and I am self-funding it. Well, we charge Rs. 1000 per month from the doctors as we are promoting them and connecting them to the patients.
Q: How do you figure out that the doctor got a patient through your portal?
A: The app provides an option to call the doctor. Once the call has been connected, the patient receives a text message. A popup comes which asks if the appointment has been booked and if yes then a reminder popup opens and then it's our responsibility to remind the patients.
[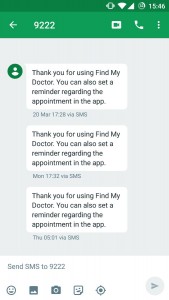 Find My Doctor sends reminder texts to the patients about their appointments
Q: What if any of the doctors didn't get patients through Find My Doctor. Are you still going to charge them Rs. 1000?
A: The first two months are completely free for the doctors. They can try our service and if they are satisfied then we sign the contract with them and charge them.
Q: Besides finding a doctor what other facilities are you providing?
In the second week of its launch, the Find My Doctor app introduced 5 new features for its users.
A: We have started with this basic function only. In the second month of our launch i.e. in February we introduced five new functions which includes; locating hospitals/pharmacies near you, finding blood donors, daily health tips, medicine reminders, and ambulance calling service. The users can also compare and review doctors.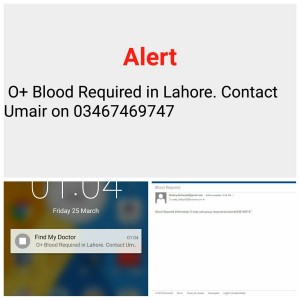 Find My Doctor provides blood donor finding feature.
Q: A few questions regarding this. "Comparing and reviewing doctors" how would you deal with a situation where a user has provided a bad review of a good doctor due to any reason? This might damage the doctor's reputation and your relationship with them.
A: All these reviews are moderated. In this case, we will check on what grounds that review was given, whether the user actually visited the doctor whom they are reviewing. Our team will authenticate all this information.
Q:  "Daily Health tips". That sounds interesting but who is providing these health tips? Do you have a medical expert in your team as well for this?
A: No, we do not have a medical expert in our own team. The tips are  provided by the doctors who are working with us.
Q: What is this ambulance calling service and how does it work?
A: In emergency situations we tend to panic and forget something as basic as an ambulance calling service number. Our app has all the data of ambulance numbers; you can instantly check these numbers from our app and call them in emergency situations.
Q: How do you define your customer target group? You are an app based service and most of our elderly people cannot use smart devices, let alone download your app and use it. Similarly, the poor people cannot afford smart devices as well.
A: Our target group is every person having a smart phone or other such devices. Smart devices such as phones, tablets etc. are very trendy these days. People rely on them due to its convenience. We are bringing our healthcare system to your phone.
From the very basic to advance, the entire healthcare services you need will be available on your phone through Find My Doctor.
Q: You claim to launch the first healthcare app in Pakistan? Can you substantiate this claim?
A: Well, there are a few other apps which have recently started working in this field. We are the first authentic healthcare based app for Pakistan. The competitors are usually web based. Our service is more mobile.
Q: What cities do you aim to target in future and what are your long term goals?
A: We have plans to expand in other cities as well. By April, we will be covering doctors in Islamabad and by June the doctors of Lahore. We have some other exciting features coming up that I cannot disclose right now. In the future, we want to expand it to all cities of Pakistan and become a one stop solution for your entire medical and health related concerns.
Visit Find My Doctor
We help Startup Founders by equipping them with skills, resources and connections
which help them in scaling their ideas
[bibblio style="bib–font-arial bib–size-18 bib–recency-show bib–default bib–hover bib–shine bib–white-label bib–grd-6″ query_string_params="e30=" recommendation_type="optimised"]