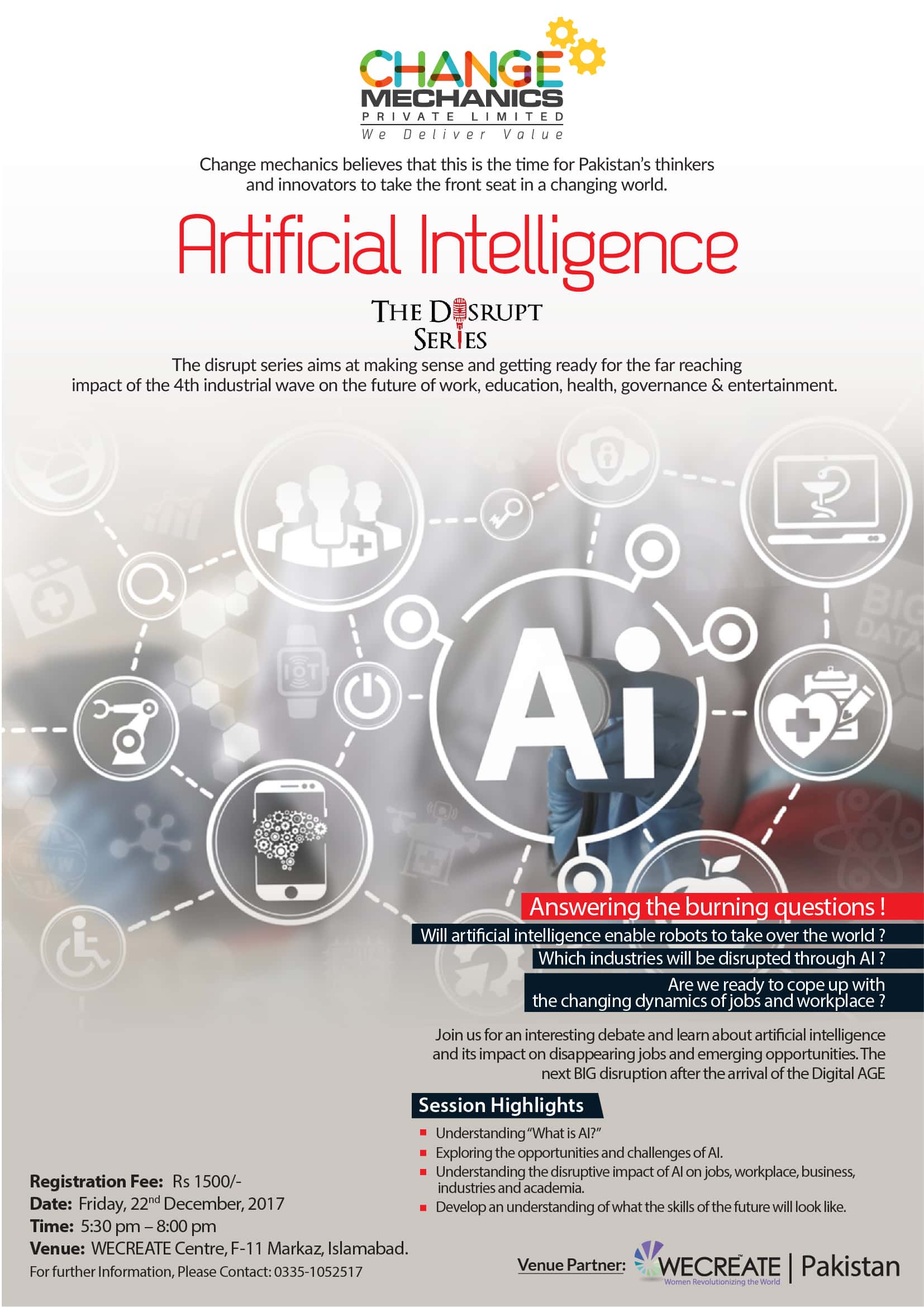 Disclaimer: This Article is updated by
Yusra Qasim.
---
Super Intelligent

computer programs have already

defeated

the world-class sword, table tennis, soccer, chess and Go experts.
Is that an episodic revelation that machines will eventually take over humans? Or they will come to humans' aid and make human lives better. Artificial Intelligence (AI) is probably the biggest scientific achievement the world has witnessed yet. Are they really creatures unanswerable to any God?
Will they be answerable to anyone? Will they establish an authoritarian rule over mankind and eliminate humans as poor and inferior codes? Many experts have differing points of view about the rise of AI and its applications. The first ever humanoid robot Sophia is already making jokes about dominating the human race.
Many claim that the most complex object in the universe is a human brain that the world's most advanced systems cannot match. The goal of Artificial Intelligence is not to create just robots that perform specific tasks but to create a digital brain that is self-intelligent and far more superior to any human brain ever.
Current applications of AI are transforming the world in a way that we didn't even imagine just a few years back. It is already performing the assigned tasks better than any human could with zero-error. From Facebook's bots to Apple's Siri to Amazon's Alexa, it has penetrated into almost every high-tech machine.
Among many examples is Alibaba's warehouse where robots do 70% of the work and it has replaced a majority of human workers. These robots can lift up to 500 kilograms and whenever their battery is low they can charge themselves. A 5 minute recharge can re-enable them from 4 to 5 hours. This is an example of sheer brilliance on one hand and human irrelevance on another, in industries in the upcoming years.
Current industry leaders like Mark Zuckerberg, Jeff Bezos and Sundar Pichai are optimistic about the future of AI; Bezos even termed the rise of AI as the renaissance. On the other hand scientific genius Stephen Hawking said in an interview that 'AI could spell the end of human race.' Elon Musk says that the AI is a bigger threat than nuclear warfare. Bill Gates also has some fears about the rise of Artificial Intelligence. Jack Ma says that machines will have knowledge and the ability to outperform humans in many tasks but they cannot have wisdom which is very necessary for the world to evolve.
---
---
You must have witnessed the war of words between Elon Musk and Mark Zuckerberg on the future of AI. With this difference of opinion among such people it has become an open-ended discussion. The conclusion of such a debate will be defined in the coming future.
To discuss the future of AI, Change Mechanics has organized an enlightening and interactive session. The session focuses on providing an insight on how AI works and its potential impact and the current challenges in its path.
The panelists include tech gurus and industry veterans like;
1. Dr Mudassar Farooq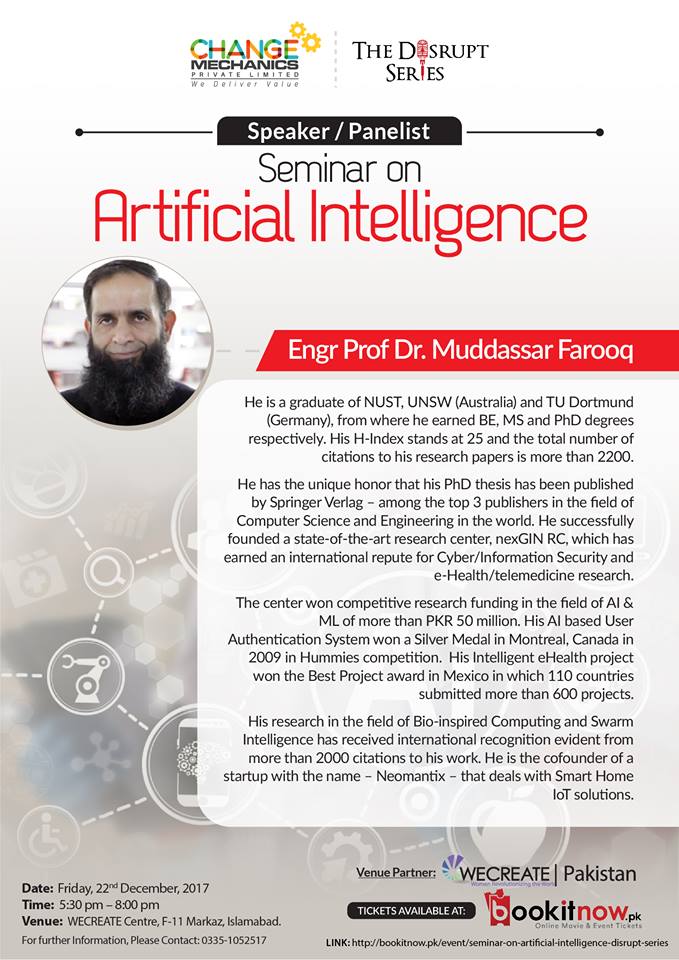 2. Farhan Zaidi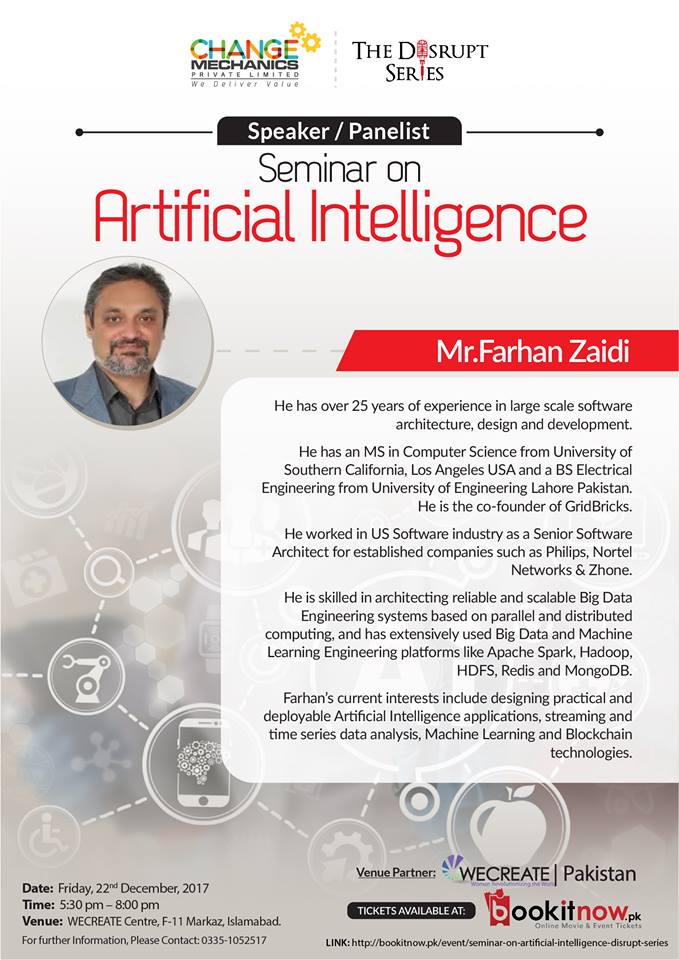 3. Mudassir Zaidiasim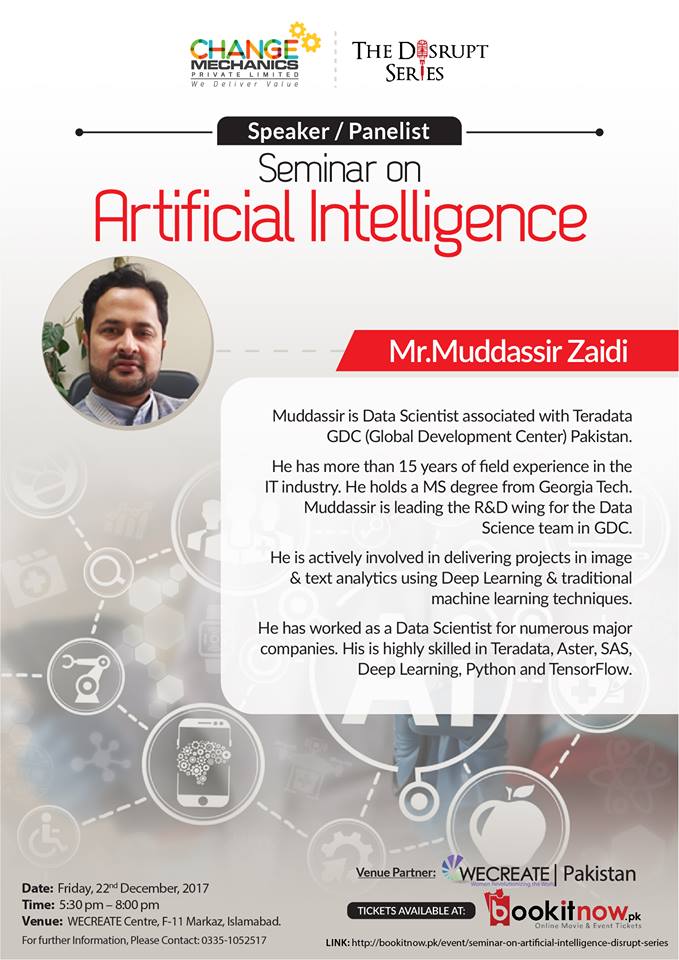 4. Asim Ghaffar.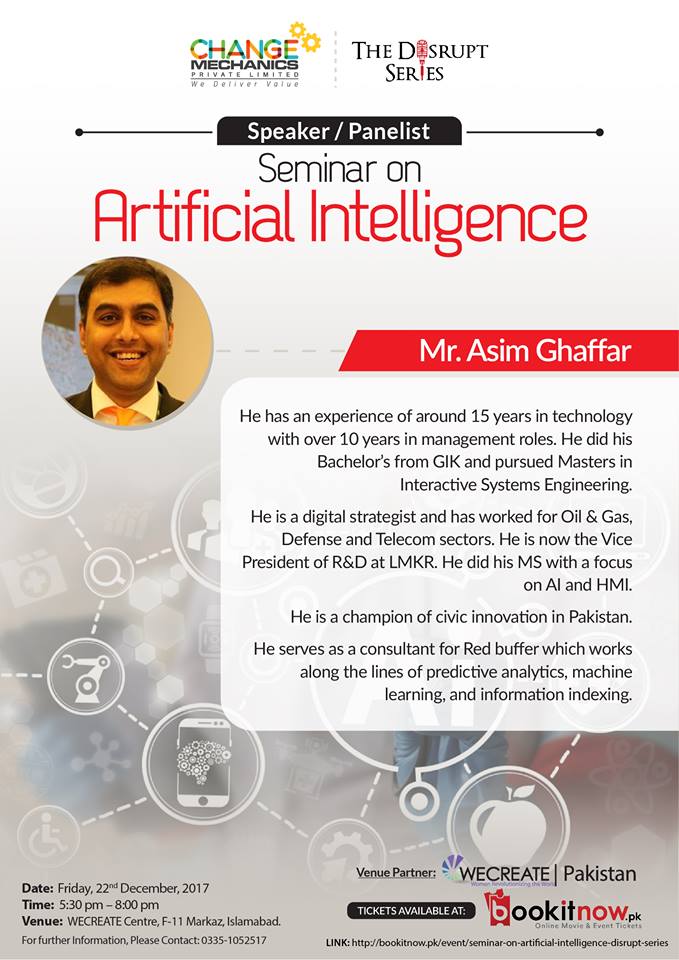 Join Change Mechanics on Friday December 22nd, 2017 from 5:30 pm – 8:00 pm at the WECREATE Centre, F-11 Markaz, Islamabad.
This is the second session in the "The Disrupt Series" launched by Change Mechanics and an exclusive opportunity for business leaders, technology enthusiasts and students from all sectors to learn about Artificial intelligence.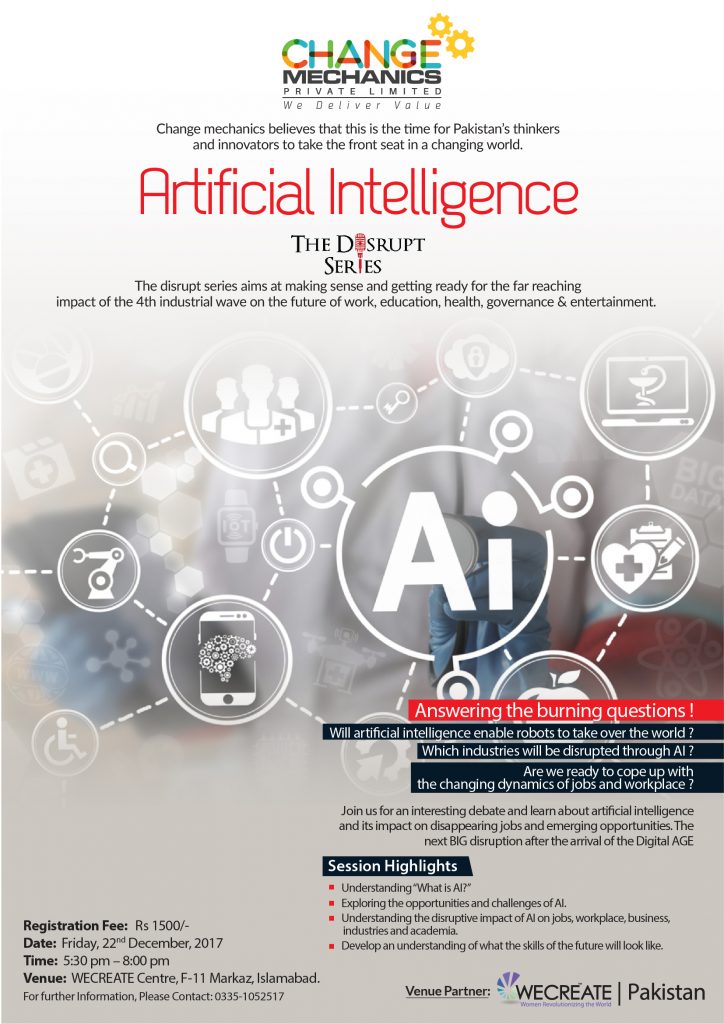 It will include a networking session with tea and certificates for the participants.
Change Mechanics believes that this is the time for Pakistan's thinkers and innovators to take the front seat in a changing world. The Disrupt Series aims at making sense and getting ready for the far-reaching impact of the 4th Industrial wave on the future of work, education, health, governance & entertainment.
Participation Charges: PKR 1500/-
SPECIAL STUDENT DISCOUNT CHARGES: PKR 1000/-
Payment Details:
Account Title:  Change Mechanics (Pvt) Ltd
Account No:  0148-1005766204
BANK ALFALAH, F-8 MARKAZ BRANCH ISLAMABAD
For information about tickets and any further queries, please contact: 0335-1052517.For online tickets, please follow this link:  http://bookitnow.pk/event/seminar-on-artificial-intelligence-disrupt-series
Come share your thoughts and have your questions answered about how the future will be.
For more exciting opportunities and events keep visiting startup.pk
---
---