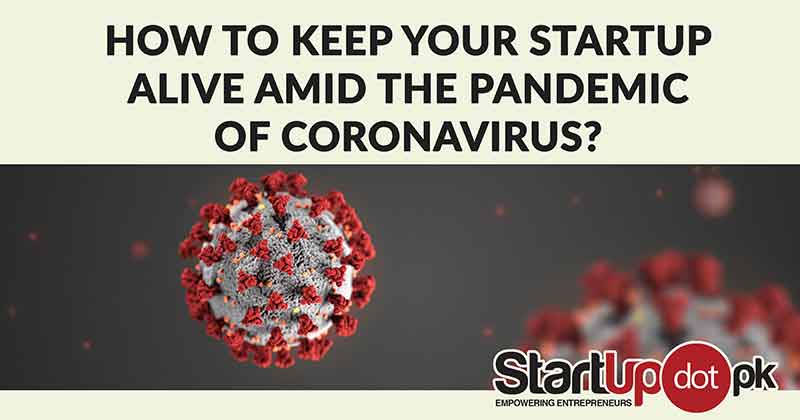 Corona Virus has spread its

miasma

so far and so fast, sledgehammering

health of humans and economies.
Since, the last few days, we have been witnessing a great fiasco caused by the corona virus that has descended upon almost every other country in the world. It has spread its miasma so far and so fast, sledgehammering health of the humans and as well as their economies. Even though the pandemic has just started, but it can be foreseen that the social and economic effects of this plague will be extreme and withstanding especially in developing countries like Pakistan. The health crises created by this pandemic is leading to shutdown of one sector after another at local as well as national level.
The prevalence of corona virus has created a frenzy in every sphere of economic life with startups facing the blow in more depth and intensity. While we wait for the vaccine to come out and things to get better, it is important to take necessary measures. Having a recession is now inevitable, the only question is how long and hard it would be. For an entrepreneur, the only way to navigate through choppy waters for the coming year or so is to keep their emotions in check and take calculated steps to manage survival through the time of recession.
This article aims at providing startups some tips to ensure that they manage to come out of the other end of the tunnel.
---
---
☑ Stop ignoring the elephant in the room
The solution to any crisis starts from accepting its existence in the first place. Even now that corona virus has been given the status of pandemic by WHO, still there are some start-up founders who believe they are well insulated from the effects of the pandemic. In the circumstances where corona virus is uprooting some mainstream industries like travel and airline, only those startups can emerge at the end of the tunnel who accept the crisis coming and adapt accordingly. The sooner startups adopt remedial procedures, the better are their chances at survival.
☑ Fundraising can be daunting
Economic meltdown is always a tough time when it comes to raising money. Everyone is spooked and want to seek safe haven. In such fiasco, fundraising can be a great challenge for a start-up which needs money to survive. All the world's stock exchanges are plunging by hundreds of points each day because of the panic existing in the investors because of the surging cases of corona virus in the country, travel restrictions and lock-down of cities. In such situation, it is going to be a daunting task for a startup to find an investor. You can't expect more from angle investors when they are fearing for their own capital getting wiped out by the market. Even if they agree to invest, you might receive poor deal terms and low valuation. If the terms they offer are not agreeable and you have enough funds to cover your expenses, then it's better to wait it out.
Similarly, venture capitalist [VC] firms are also going to be cautious of new deals. In such situation, try with doing your best by convincing the investor of long-term value of your business and assuring its longevity and how is it going to survive the crisis. Even in bad times, there is always capital for companies that have a strong product and large customer base. Also, maximize your outreach to as many investors as possible.
Another good source of money is non-equity cash sources like government grants or relief packages. The key is to keep enough cash in hand to weather the storm and stay alive until things get better.
---
---
☑ Cut the burn rate
Running a start-up means having limited cash and funds at hand which means you will have to cut unnecessary expenses to extend your cash runway. For slashing expenses, you might have to make hard calls and take some difficult decisions to give yourself the runway to survive. Try to reduce your burn by taking as many measures as necessary to keep you afloat. Try to find creative ways to cut cost and engage everyone in it.  Some steps you can take to save cash are;
To halt hiring of new recruits
Cut costs expended on just incremental growth
Slash salaries by a certain percentage after reviewing with HR
Shrink your spend on marketing and sale campaigns
Leave expensive office spaces
Renegotiate expenses like rent & lease payments
Remove all kinds of dead weight on the company and focus on recurring clients/projects.
If you still stifle to maintain necessary cash, then you might also need to consider layoffs but do it with compassion.
☑ Evaluate and re-evaluate
Startup CEOs have a natural tendency to be very optimistic when it comes to evaluating what wonders their business can do. Almost every start-up overestimates their revenues and profits while underestimating any unforeseen negative forces like corona virus. But now in the time of social distancing and a state of lock-down, it is quite evident that capital will shrink up, supply demand will get disrupted, your sales will get reduced, and average consumer spending will also decrease.
Now is the time for businesses to revise their plans, accommodate the Corona factor, and spend time on discussing how are they going to mitigate the effect of these changes. They should be quite conservative in making their revised plans as we don't know yet how long and how far the consequences of this health crisis will stretch. Also, have succession plans [substitutes/temps] so, that if one employee gets sick then the temps can replace them and things can continue to work.
☑ Be open and honest
For surviving the time of crisis and maximizing the support you need, it is supremely important to be honest as well as transparent. Sweeping the things under the rug will never help. What you need is to have open communication with your employees and investors about how the crisis is affecting your business and its actual and possible future aspects so that you have their confidence as well as support. Inform them about whatever problems you are facing and your plans related to dealing with them. Not only inform them but also engage them on how the business can get through this. Maintaining a strong communication is the key.
---
---
☑ Lead from above and within
This moment of crisis has left just everyone fear stricken including your employees. Right now, your employees need to see your leadership even more than ever. They expect you to be empathetic and understanding. Your employees are your great asset and it's your job to keep them safe even if it requires you to give them paid leaves, halt travel, postpone important events, give them work from home facility, etc. This may cost you a little money or may lead to lesser productivity, but you can't afford your employees to get sick or die or become carriers of this virus. The crisis will be over soon, and they are the ones you are going to continue to work with.
☑ Find the silver lining
One of the key skills of a great entrepreneur is to find the silver linings to everything.  As proposed earlier, in these times of impending economic and financial crisis, the first thing that needs to be on your mind is survival, but it does not mean that you stop making products or services that can be useful for people. Many big companies have arisen from the doomsday dust which tells us that you need to let your creative juices flowing even in these challenging times. New ideas and new markets are going to emerge from the anguish of social isolation.
Be alert to the solutions of plethora of new problems and challenges created by the COVID-19 for the people. People are changing their habits to accommodate the new reality. Look forward to this as an opportunity. Now that everything has moved online, it can be a great opportunity to provide some video-chat services or online work platform. Those who had grocery based startups are now focusing on drone deliveries to meet the increasing demand for home deliveries.  Other emerging businesses include remote work apps, online tele-health apps, biotech, finance apps, etc. offering online payment services and other direct-to-consumer businesses.
Conclusively, it's hard to tell how things are going to look once this crisis is over but now that we are in it, you should consider this as an opportunity to stress test your startup, ensure survival, and look forward to the opportunities this new reality will bring to us.