Business Model
Either it's an app, a website, or any other online business for which you are creating digital products it would remain operational only on the foundation of an effective business model plan. Having an idea was the beginning, to capitalize on it for business development you need to have a sound plan to attract investors, and its marketing to the targeted customer.
Business model is an encompassing term which layouts the whole model of generating revenue for a startup. It captures things from costs, profits, customer value, and aspects of product which are going to be a differentiating factor from other competitions in the market.
Another popular term used sometimes along with the Business model, is Business plan. This business plan talks about the company's overall strategy and financial goals in the upcoming years. While Business plan exclusively revolves around generating revenue but business model is a strategic tool which translates that into reality.
There are many popular models for generating revenue out there. It's up to a person developing a business plan to decide which model is most appropriate and profitable.
Let's have a brief overview of most dominated models of digital economy.
Freemium model: This model is based on the idea that some services are free for everybody, but few features are available for only those are ready to pay. For instance, premium and enhanced features on music apps like Hungama, and Gaana which let you stream songs for free, but you must pay for downloading them to listen offline.
Subscription model: It's based on a long-term commitment on the part of customer. They subscribe to your company's products or services and get charged after every week, month, or yearly basis. New York Times has subscription deals for customers who want to consume Times content unlimitedly and want access to all content available online.
Transactional model: For every service or product a company is providing, you will generate revenue directly. As customers using these services or products would be paying for them. Sales in this model are predictable. PayPal works on this model by minimizing credit risk for sellers and ensuring more purchase and information security service for buyers. Every time a transaction takes place, PayPal gets a percentage from it.
Advertising model: One of the common models in the e-economy is an ad-based system. It talks about placement of ads of other companies on your web-based channel at some specific spaces to reach customers for maximum impact. It also required on your part to gather more and more traffic for getting more profitable ads. Ad sense tool developed by Google gets ad for digital companies and in turn pay them depending on the traffic they are getting.
There are three more ad-based models used commonly these days in internet economy: Cost per thousand (CPT), Pay-Per-Click (PPC), and Cost per accusation (CPA).
Free-product model: In this model, customers can own product, but they could not use it unless they pay for its customization, training, or installation for proper functioning.
Affiliation and Commission model: Another very popular model of generating revenue is through affiliation with other companies where you will get commission based on sales. For example, a sports app may feature garments related to sports and thus, people buying through this app from third parties would benefit App owners on every sale happened through app.
Usage model: Here, you pay for selected utilities demanded from a specific company. Psonar, a music provider app, is using this technique for generating revenue by charging its customers at very inexpensive rates.
Retail sales model: This model requires you to set up a store where you can sell your products and goods directly to your customer. This model is not suitable for digital products. Like Amazon, which has increased its retail sales by 10% in two years.
Direct Sales: According to Founder Institute, there are two types of direct sales. Inside Sales where you place an order or sales agent calling prospects while in Outside sales is based on face to face transactions.
The Big Data provider model: In this information age, data has value of its own. Big corporations like Facebook don't charge their customers for using their services. Instead they use data provided by users to advertisers who in turn devise campaigns and messages for targeted audience. Facebook earned revenue through data selling to these advertisers.
Virtual goods model: Nina Tomaro considers it one of the proven methods she mentioned in her post on Huffington Post. For example, Candy Crush game gives users virtual prizes in the form of life lines, prizes, and further upgrades. It appeals to the instant gratification instinct of consumers and has the capacity to set the profits and revenue stream on a pretty fast track.
Cost Caution:
Let's have a conversation on some terms that you'll be dealing a lot while outlining the business plan for your startup. The guide of Dummies is valuable in this regard.
In the Black: Ever body ought to stay in this block. It means when your revenue stream is exceeding the costs, consider yourself lucky. Because this is where you want to be. Also, it means financial growth is happening for you.
In the Red ink: if you are positioning yourself in this direction, it's time to reflect upon the current course you are taking for your business. Here, your capital is in trouble.
Fixed costs: while framing a business model, fixed costs like salaries of employees, bills, and office rents should be kept in mind. For whatever happened to your business whether it's growing or declining, these costs are obligatory and must be paid to keep the business going.
Variable costs: There are other costs which can be categorized as variable because they are depend upon other fluctuations in sales and material consumed in the manufacturing of the product.
Not understanding what you came for. Try to fill this template we curate-d for you from DIY tool kit.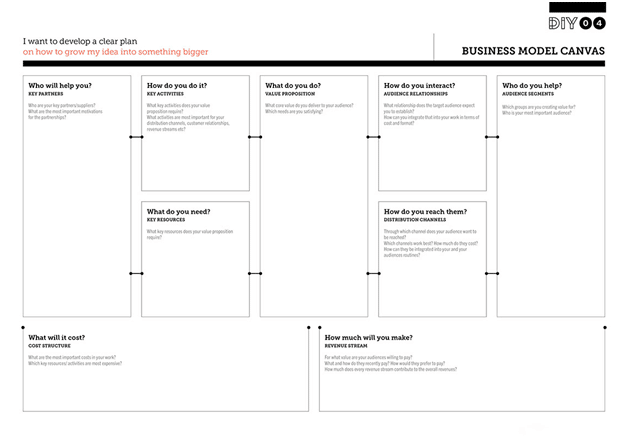 The take away:
The selection of business model is very critical in case of all business ventures, especially startups. Survival of your company depends upon the model you choose for its sustainability, revenue stream, and functionality. Basically, your business model revolves around the key decisions made to cater its revenue stream, costs, and risks. Innovative changes in these directions can make significant improvements in making business model successful for your company.
References:
https://www.inc.com/martin-zwilling/10-most-common-business-models-to-make-a-profit.html
https://hbr.org/2013/05/why-the-lean-start-up-changes-everything
https://fi.co/insight/the-10-most-popular-startup-revenue-models
https://hbr.org/2014/07/four-paths-to-business-model-innovation
https://hbr.org/2017/07/research-writing-a-business-plan-makes-your-startup-more-likely-to-succeed
http://www.bmnow.com/revenue-models-quick-guide/
https://www.cmu.edu/swartz-center-for-entrepreneurship/assets/revenue-models.march-2015.pdf
http://www.problemio.com/business/business_model.php
https://www.inc.com/martin-zwilling/10-most-common-business-models-to-make-a-profit.html
https://startups.co.uk/business-models/
https://sloanreview.mit.edu/article/the-hard-truth-about-business-model-innovation/