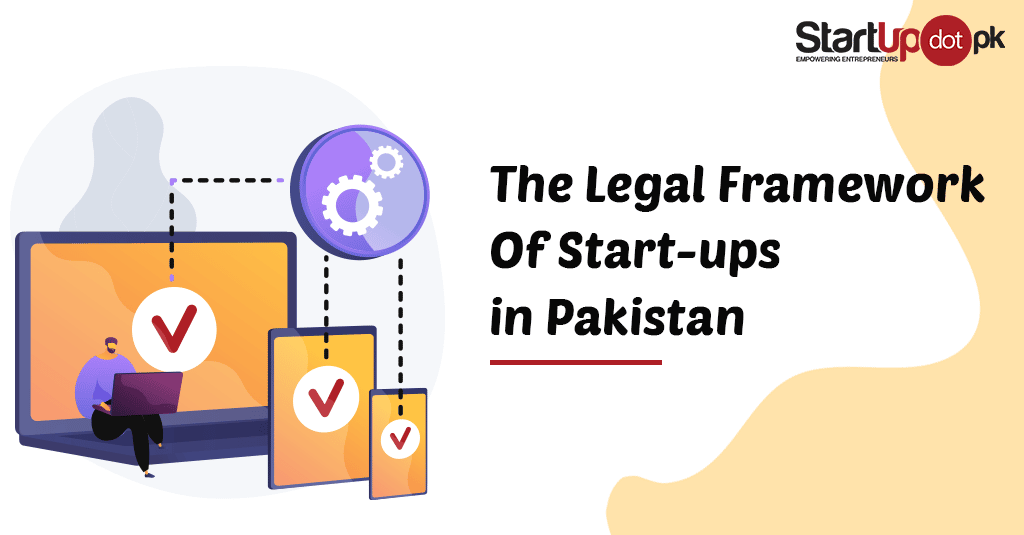 Start-ups have become the epicentre of today's day and age. So, we need a legal framework for our business to prosper on National and Global level. A start-up company or a project is undertaken by an entrepreneur who wants to bring their own product or idea into the market. Start-ups have become vital to the social and economic growth of any country. With more and more people adopting the use of the internet, Pakistan's economy is set to progress at a much faster rate. Although many possess creative ideas but lack the economic resources to pursue their start-ups. Moreover, devising a legal structure for a start-up first-hand can be quite daunting.
However, it is an integral part of the success of a newly launched start-up. The first step toward setting the legal structure is to clearly assign the responsibilities and the rights of the group working under this new venture. Secondly, it is necessary to ensure that the business interests are protected.
By establishing a stable business platform, the risks would be prevented as well as the liabilities of the company would be reduced. In Pakistan, the 'start-up' trend is slowly gaining attention as many entrepreneurs are seeking solutions towards funding from many investors. 
The Breakdown Of The Legal Structure
The Legal Structure would comprise the long-term vision of the parties who would want to advance into this new venture. There are different incorporation structures within Pakistan that entrepreneurs and business owners can use, and they are divided into two major structures.
Non-Corporate Structures:

Partnership, Sole Proprietorship, Joint Venture

Corporate Structures:

Public Limited Company, Private Limited Company, Limited Liability Partnership, Single Member Company (SMC Private Limited).
Start-ups should opt for the following structures:
Sole Proprietorship: This is the simplest form of venturing into business activities. Under this structure and individuals can conduct their business on their own accord. However, it is not a separate legal entity, and the liabilities and responsibilities of the business rest on the owners' shoulders. A sole proprietorship is registered with the Federal Board of Revenue.
Partnership: This structure is similar to sole proprietorships but involves multiple partners in the business. A partnership involves the shared interest of the business by arriving at a single agreement on how business activities will be conducted. A partnership is registered with the registrar of firms in the respective city/district of Pakistan.
Limited Liability Partnership: This type of structure involves the flexibility of a partnership and the benefits of limited liability of a company. This is a relatively new concept in Pakistan, and it was introduced by the Securities and Exchange Commission of Pakistan (SECP) in 2017 and it is also registered with them.
Private Limited Company: This is an entity under private ownership in which the shareholders cannot interfere with the trade or transfer of shares onto the public securities/exchanges. This business structure is ideal for small to medium-sized start-ups as they require capital on such a scale. It is also a separate legal entity from its shareholders. Thus, this type of structure is recommended for start-ups that wish to limit liability and raise capital/investment.
Joint Venture: Another effective business structure involves a joint venture of a collaboration between individuals. In a joint venture, each of the parties is responsible for their profits, losses, and other costs related and works toward one specific objective. It is recommended for a new start-up to go for JV as it will eventually end up as a limited liability company at some point.
However, for start-ups, it is advised not to choose a structure of a public limited company or a non-profit organization as it may not align with the objectives of a newly formed start-up. It is explained as the following.
Public Limited Company: A public entity is a corporation in which the ownership belongs to the general public shareholders and the trade takes place within an open market. This structure is more suitable for a huge company, and it requires a company of large size to be registered as well. For example, there is a billion-dollar project; that will require a public limited company to get big investments.
Non-Profit Organization: This is an organization whose main goal is to focus on the social causes of a country and not the profits so it can lead to the betterment of a society for the public benefit. The profits of the organization are used as a source of donation for charitable purposes. The organization is exempt from taxes. This type of structure is not suitable for a newly formed start-up.
Choosing The Right Business Structure
When starting a new business, an entrepreneur should have clear objectives on how they want to form their start-up. From corporate to non-corporate structures, every business entity has a different level of advantages and disadvantages. Corporate entities require more compliance costs rather than non-corporate structures as more money and time are spent on auditors, accountants, and tax filing experts.
It would not be advisable to register a public/private limited company without understanding the compliance costs and requirements. For example, a private limited company has a higher compliance cost than a limited liability company. Even among the corporate entities the tax rates and the compliance levels differ for all the structures. Therefore, all of these important factors need to be taken into consideration.
Documents Required for a Start-up Company Registration
These are the following documents that are required to register your company with the SECP. It is also recommended to have additional documents ready as other documents may be required depending on different individuals.
CNIC's/Passport copies of shareholders of the company
Articles of Incorporation
Memorandum of Incorporation
A letter of confirmation for name availability issued by the SECP
Proof of registered or correspondence address
Power of Attorney in favour of an authorized representative to act and file documents on behalf of the Company.
Here is the following way that is required to successfully register a start-up company in Pakistan. The incorporation of a company requires four steps.
An application will be needed to be filed with the SECP for name registration. There are three proposed names that are needed to be shared at this stage and it is also important to not choose names that are prohibited.
Required Incorporation Documents
Incorporation Application
Memorandum of Association
Articles of Association
Supporting documents i.e., director consents, power of attorneys, etc.
All other documents are required in a proper arrangement as mentioned in the next section.
Submitting all important documents to the SECP and addressing any queries raised by the company registration office (CRO).
Conclusion

The process of registering a start-up can be intimidating for many business owners however, it is not impossible with the right knowledge and the right tools a start-up can launch in no time.