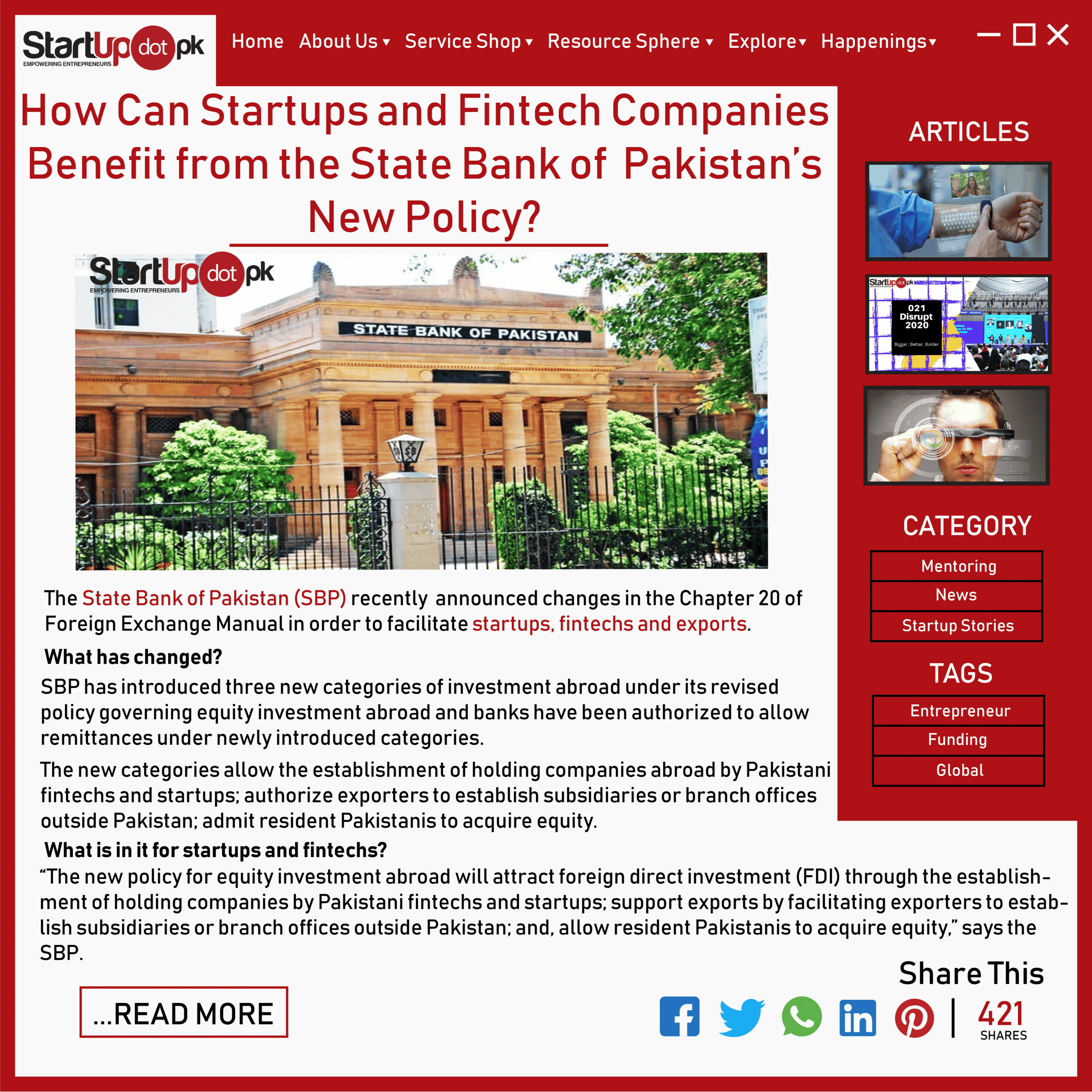 The State Bank of Pakistan (SBP) recently  announced changes in the Chapter 20 of Foreign Exchange Manual in order to facilitate startups, FinTech's and exports. 
What has changed?
SBP has introduced three new categories of investment abroad under its revised policy governing equity investment abroad and banks have been authorized to allow remittances under newly introduced categories.
The new categories;
allow the establishment of holding companies abroad by Pakistani FinTech's and startups;

authorize exporters to establish subsidiaries or branch offices outside Pakistan; 

admit resident Pakistanis to acquire equity.
What is in it for startups and FinTech's?
According to Business Recorder, start-up businesses in Pakistan were not able to attract the attention of foreign venture capitalists and angel investors, and that had hindered good ideas from blooming and flourishing. 
For a long time startups' owners in Pakistan had been downhearted by the reluctance of foreign investors in investing in developing countries because they are generally considered high-risk. Secondly because VCs simply prefer investing in their home countries whose regulatory frameworks they are well acquainted with. Therefore, with the SBP allowing the establishment of holding companies abroad, this concern is out of the picture. The move removes a major barrier from startups' investment trajectory.
"The new policy for equity investment abroad will attract foreign direct investment (FDI) through the establishment of holding companies by Pakistani FinTech's and startups; support exports by facilitating exporters to establish subsidiaries or branch offices outside Pakistan; and, allow resident Pakistanis to acquire equity," says the SBP.
Here are some elaborated ways in which businesses can benefit from the policy changes:
SBP's revised policy will enable the Pakistani fintech and startup companies to channelize foreign direct investment in the country by establishing a holding company abroad.

Pakistan's investment regime is quite open that allows full freedom to repatriate profit, dividend and capital. However, some international investors prefer to invest indirectly through holding companies established abroad, especially in the Fintech and Startup firms.

The policy will enable the export oriented companies to establish subsidiaries or branch offices abroad against specified remittance.

This will facilitate exploring new and non-traditional markets and capturing more export orders, as international buyers prefer dealing with subsidiaries/representative offices of foreign companies present in their country.
The policy will allow the resident individuals of Pak­is­tan to acquire equity stake in international firms through share option plans or investment in listed securities. In case of sweat equity, a person can acquire up to twenty percent shareholding in a foreign company. These policy provisions will provide opportunities to individuals to earn foreign exchange for the country in the form of repatriation of capital gains.

The changes in the foreign exchange regulations will facilitate portfolio investment in the country.

This includes mutual funds, Exchange Traded Funds (ETF) and Real Estate Investment Trust (REIT) Funds through Pak rupee-based Roshan Digital Account (RDA) and Special Convertible Rupee Account (SCRA).
In a nutshell, it is a much welcomed and long awaited move taken by the SBP after consultations with the entrepreneurs of the country. It will give the startup industry a much needed boost. It is very important to realize that the ideas nowadays are not confined to geographical boundaries. In order for them to thrive, they need to be transnational. Many great ideas born out of Pakistani entrepreneurs never got the kind of attention and nurturing they deserved due to a few regulatory barriers. But now with the new policy in place, ideas that hold value can attract investments from across the world. The amendments are likely to flourish thousands of start-up businesses in Pakistan.
According to an editorial report published by Business Recorder, SBP appears to have struck the right chord with its target audience by opening up the capital convertibility regime for businesses. There are facilitations for the companies to make investment abroad for attracting angel investment. The repatriation of capital gains has been rationalized for start-ups and fintech companies. This can help develop the Fintech and start-up segments of businesses in Pakistan.