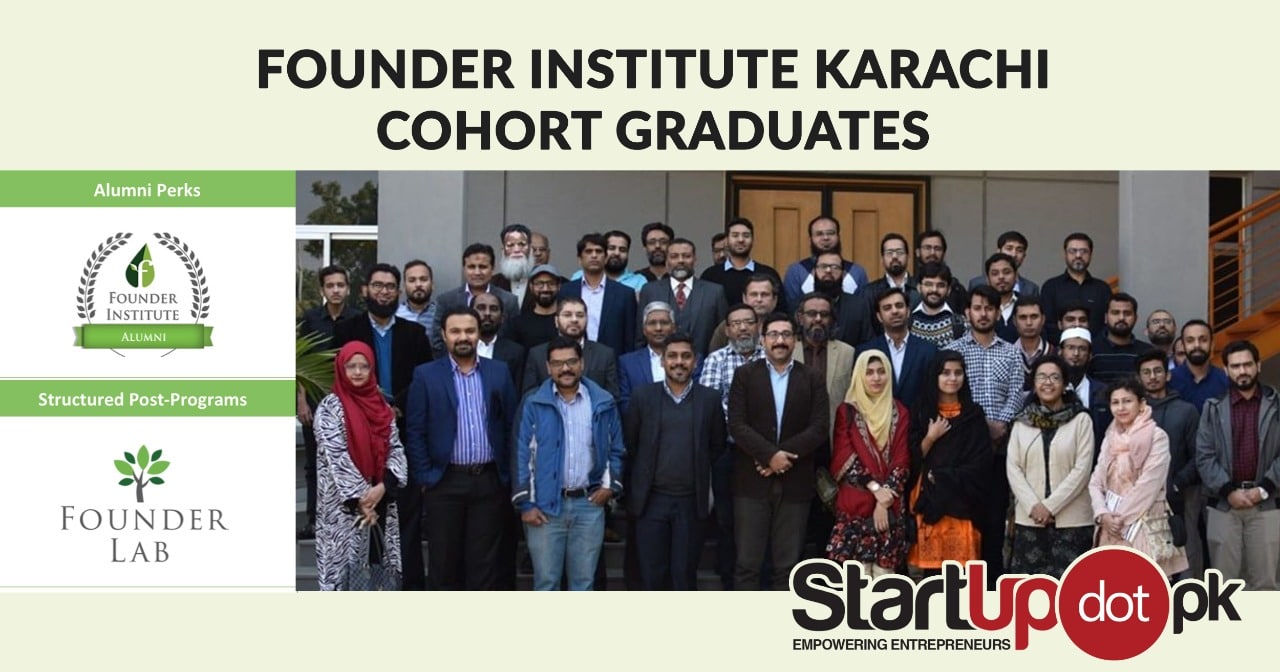 Pre-seed Startup Accelerator:

The Founders Institute
The Founder Institute is the world's largest pre-seed startup accelerator. It helps founders get to traction and funding with a support network of startup experts that are invested in their success, and through a structured business-building process.
Based in Silicon Valley and with chapters across 180+ cities and 65+ countries, the Founder Institute's mission is to empower talented and motivated people to build impactful technology-enabled companies worldwide.
Founder Institute Karachi, even in these testing times, has not put a hold on learning. On 20th May 2020, a cohort consisting of 9 founders graduated.
---
---
The Graduating Cohort
Atiq ur rehman – Founder Komyatee
Komyatee provides financial products to the people of Pakistan and serves the investing and saving interests of the people. Komaytee is working on converting an informal method of saving into a formal system of financial inclusion. Currently the business is at the stage of building a MVP for the business and come into traction mode.
---
Muhammad Moeen Uddin Ghauri – Founder Trade OBOR
It is the first ever Marketplace covering all aspects of the economic growth of the region specially Pakistan. Hundreds of Thousands of businesses are establishing for China Pakistan Economic Corridor (CPEC) and in One Belt One Road (OBOR). Trade OBOR has developed a Mobile / Web based Online B2B Portal for CPEC related products and services. The company has developed MVP and has started offering complimentary packages for a 90-days period.
---
Junaid Tahir – Founder Ener-Miser
Ener-Miser work with different industries, gaining insights into the key problems for each customer segment, building a value chain of partners and providing solutions (analytical and energy saving implementations). We have experience in different sectors like residential, offices, shops and factories. Our way forward is to explore and identify higher ROI solutions, get customer feedback and acknowledgement to build trust and traction for future customers. We are also looking into smart energy measurement technologies and marketing options to scale this.
---
Azam Yahya – Founder Quantree
Quantee help investors make decision based on data science rather than intuition. The asset under management are approximately PKR 800 Billion in Pakistan but currently there is company that deploys data science including Machine Learning to make investment decision in Pakistan.
---
---
---
Aijaz Ather – Founder The Right Careers
The Right Careers provides career path alignment with one's personality, interests, skills and market trends. The market size is 186,000 private school enrolments of High Schools from 1.582 MILLION of total enrolments. The uniqueness lies in complete guidance towards career path.
---
Fawad Moon & Syed Mehroz Alam – Founders SalesEnhanced
SalesEnhanced offers a comprehensive solution to help distribution companies streamline and automate their order booking and delivery process. It consists of a cloud-based web application for backend and an integrated smart-phone application for agents which help them to book orders, collect payments, manage deliveries and record their visits. This enables the organizations to utilize their field force much more effectively with real time GPS tracking and geofencing integration.
---
Shaikh Ayaz Ali – Founder GoSpark
GoSpark is a web/mobile based Application that allows Consumers to make smart buying decisions. We have technology and marketing expertise in-house, with the lower cost of customer acquisition and the right business model for the Pakistan market. We have 26,000+ users, over 300+ businesses and have facilitate 18,000+ transactions through the platform and have the perfect recipe for growth in the next 12 months.
---
Ghulam Moinuddin – Founder ETSsquare
ETSsquare wants to build a Centralized AI Solution to Optimize Sales, Marketing, Merchandising and Distribution teams daily itinerary and monitoring of the resources as well with fuel efficiency. We are looking to raise and secure seed funding of around 2 Million PKR to develop the fastest and Centralized AI based solution for Sales, Marketing, Merchandising, and Distribution team of every enterprise
---
---
The Keynote Speeches
The first keynote speech was delivered by Yousuf Hussain and he talked about some post coronavirus trends that are here to stay like the focus on digitization, diversification away from China and developing of manufacturing capacity domestically.
Some of the Pre-coronavirus trends were also discussed. The US-China trade war and the tech dispute are going to get accentuated. The fourth industrial revolution might be here sooner than we think with augmented reality, AI, robotics etc. on the rise.
Furthermore, he talked at length about the changing trends and what might possibly the post-corona world may look like.
"Entrepreneurship was rising around the world. It is also going to be accentuated. The global economy is hurting which means corporations are going to keep costs low and try to have resilience in the face of a future that nobody can really gauge for sure. There's going to be less people in corporations, more freelancers and entrepreneurs.
Pakistan was already focusing on local manufacturing rather than importing. When you create manufacturing capability from a corporation's side, you have to come up with new products and new applications of technology to increase efficiency which is basically what innovation is. Innovation is transferring an idea or invention into a product or service that impacts society and that can be commercialized. So, when organizations try to innovate its usually very tough. But now with reducing barriers and lowering demands, corporations are going to need to innovate in this new situation. And this is a space where corporations can really hookup with startups."
Yousuf Hussain gave some very valuable advice to the graduating batch: "My advice would be that we are going to an unpredictable area so just stick to the core competencies, keep costs low, study the environment and try to see if you can work with corporations because this is an age of collaboration.
It is in the interest of the world and society to deliver health and education to the bottom of the pyramid. And this is an opportunity to create a better, humane world."
Mr. Brandon has been a technical founder for the last 14 years and currently working with Sadapay, which is a digital bank launching in Pakistan.
"You're probably going to be wrong. A lot. As an entrepreneur, we have a lot of assumptions about what our customers might look like, what they want. We assume that we can deliver and in our capabilities that we can deliver. And when you have all these assumptions you end up getting in front of the customer and finding out that a lot of those assumptions were wrong. So, I think, as soon as possible as an entrepreneur we need to figure out how can we validate all these assumptions that we have so that we have a better chance to serve them some sort of solution that they'd want to pay for.
You will usually be wrong about your early assumptions about the customers or your market. And things will come out of nowhere and if we can be flexible, and remember that we have to be flexible, because you don't know what you don't know. We have to try to get in touch with the customers. Be prepared to be wrong."
The next thing that he talked about is finding your passion, finding a cause that you can fall in love with. And when you find something that excites you or something that you're passionate about then your work product as an entrepreneur will be so much better. And when you have passion for something that you want to accomplish that can resonate with other people and it can help you track the talent that you need to compete with goliaths.
Brandon also focused on our ability to sell and why this ability is so important, especially for an entrepreneur. When we think about selling we're thinking of selling to our customers but I think it extends beyond your customers to other parts of the business like your employees, your investors, future partners. And the ability to sell isn't necessarily something that you can just read out of a book, it's a soft skill. It takes a lot of practice, going out speaking to people and spending enough face time. The ability to sell can get people to follow you. It can get you customers, acquire investment and find partners.
Finally, he discussed the diffusion of innovation theory which is based on five pillars for a new innovation.
The first pillar is you need some sort of comparative advantage. Your offering needs to be better than the alternative.
Is it complex?
Observability?
Can we see this innovation in the market?
Trialability?
Can I easily try this innovation for myself?
Compatibility?
In his closing remarks, Sayyed Ahmad Masud congratulated the graduating cohort and pointed out that an FI certificate does not mean they are going to succeed in the real world but it is the knowledge that is going to help them. He pointed out the hallmark qualities of a successful entrepreneur which are toughness & perseverance, flexibility and prudence.
---
---