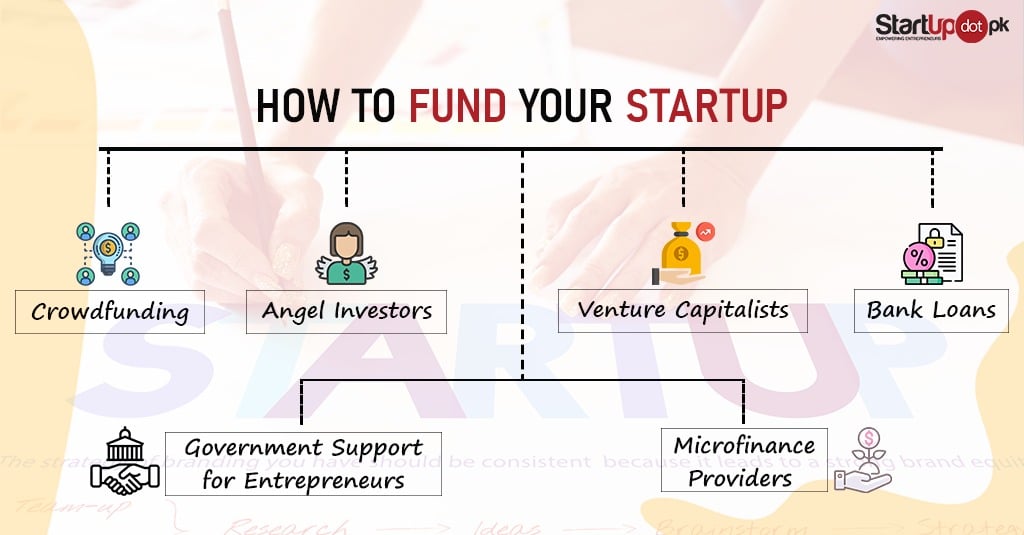 You have got a ground-breaking entrepreneurial idea and all the technical knowledge required to start your own business up: but is that enough? Without a concrete plan to carry out the business strategy, it is difficult for ideas to materialize. There are numerous facets that need to be taken into account in order to ensure that your business takes off.  Funding for some businesses is necessary and without the seed money an entrepreneur might not be able to launch the start-up. Seeking out fund is supposedly a dull and laborious task. To keep themselves motivated entrepreneur must remind themselves that their ideas will thrive if they are supported by secure funding.
Although funding is generally considered as an essential requirement for starting a business, not all young entrepreneurs need it.
For those who do require it, here is a comprehensive list of practical ways to fund your business if you are an aspiring entrepreneur searching for financial opportunities.
1. Crowdfunding:
Crowdfunding is a method through which capital is raised.  Such platforms are used by start-ups, small businesses, and non-profit organisations to connect with potential investors and assist them meet their financial targets for starting a business, developing a product, or furthering a cause.
There are many international online crowdfunding platforms available namely Indiegogo, start engine, go fund me and last but not least a Pakistani crowdfunding platform seedout.
When you use a crowdfunding site, you must first register and create a profile before creating your own personal campaign or fundraising page where you can tell the story of why you are raising money and what you need it for, set a fundraising goal, and let the process begin. Upon registration, funds are deposited directly into the financial institution account you link to your fundraising account.
Aforementioned process must be followed whilst remaining in Pakistani jurisdiction.
2. Angel Investors:
Angel investors are wealthy private investors who invest in promising business ideas in exchange for equity. 
Pakistan's entrepreneurial eco-system has grown significantly and start-ups have successfully scaled their businesses after gaining seed funding rounds by international and national angel investors. 
Angel Investment Network is an authentic platform that can be utilized to connect with serious capitalists. Dotzero ventures is another viable option, it primarily invests in early-stage companies that have proven through pilots that their service, product, or idea has broad appeal. Currently its' portfolio consists of eight fully funded start-ups and is on the lookout for start-ups in the following sectors: fashion/retail, e-commerce and technology.
3. Venture Capitalists
Venturecapitalists are looking to invest in innovative start-ups that offer distinctive solutions to problems. Sarmayacaar financially assists daring entrepreneurs with a vision of creating market transforming technological start-ups in Pakistan. Its large portfolio includes successful start-ups, which attests to their credibility a few of which are Bykea, Abhi and Jugnu. Another venture capital group Invest-2-innovate (i2i) has a broad portfolio of strong start-ups belonging from various sectors. Capitalists like i2i have partnered with We Raise an initiative by the World Bank to specifically promote and guide female entrepreneurs. 
4. Bank Loans 
In Pakistan, many banking institutions offer loans to eager entrepreneurs with solid business ideas. Following options may be considered:  
Allied Bank's Hunar Tumhara Sarmaya Hamara 
whether you are a trader, service provider or manufacturer with funding requirement of up to Rs. 15 million, ABL's Allied Business Finance is an ideal fit to cater to your financial and working capital needs. They offer speedy loan approval at a competitive pricing.
HBL's Small Business Finance
HBL is another option while seeking finances for your start-up, it gives a loan up to PKR 15 million. It is a complete financing package for meeting working capital, guarantees and business expansion needs of your business. The tenor is of up to 3 years. 
National Bank of Pakistan's Karsaz 
Is a scheme to encourage Pakistani entrepreneurs by providing them with the opportunity to avail a loan up to the amount of PKR 1.5 million and tenor of up to 5 years.
5. Government Support for Entrepreneurs
Young Entrepreneur Scheme or Kamyab Jawan Scheme 
The scheme provides interest-free loans in three different tiers – up to PKR 1 million in Tier 1, PKR 10 million in Tier 2, and PKR 25 million in Tier 3.
Prime Ministers Youth Business Loan 
The Prime minister's Youth Business Loan Scheme aims to promote entrepreneurship by supporting new businesses, with maximum loans of up to PKR 2 Million.
6. Microfinance Providers 
For companies that are unable to obtain traditional banking funding, microfinance is a feasible choice. Entrepreneurs can borrow up to PKR 150,000 through FINCA Microfinance Bank's "Karobari Karza" programme, with lending terms ranging from 6 months to 2 years.
Bootstrapping- The Last Resort             
Bootstrapping is the process of starting a business from scratch without any external funding. If you have exhausted all six of the start-up funding options discussed above, bootstrapping may be the way to go. You may need to consider starting with only financing from friends and family and personal savings.