Over coming all odds, staying persistent and chasing your dreams is what entrepreneurship is all about! It's a journey where an adventurer lives on the edge and experiences the thrills. Their tales are then told over and over again till it becomes a legacy which lives on!
Today, we are going to talk about how women in Pakistan are disrupting this sphere through their initiatives. Few days back, Google Developers Group (GDG) Islamabad under it's Women Techmakers Program organized "Women Techmakers Meetup Islamabad" at WECREATE Center Pakistan. The purpose of event was to highlight the stories of women entrepreneurs, to inspire people and enable aspiring entrepreneurs to connect and share their experiences.
The panelist speakers were Kalsoom Lakhani – Founder Invest2Innovate , Momina Rajput – Head of Pakistan's first Telco-Accelerator, Telenor Velocity, Bakhtawar Tufail – A young Bio-entrepreneur from Peshawar, Hira Batool Rizvi – Founder SheKab, and  Maliha Kayani– Co-founder Ezpz sehat.
Mr. Saad Hamid, the community manager of Google in Islamabad organized the event. Reinforcing the vision of the event, Saad stated that he aspires to build a kind of community where nobody is restricted due to the nature of their gender.
The primary purpose of the event is to help people make connections. For a more productive community we need people to collaborate with each other more often.

– Saad Hamid
Even though every speaker has a different story but I am going to talk about few things which touched my soul deep inside.
Kulsoom Lakhani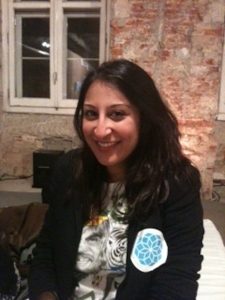 I believe that 'Daring' is the right word to define her. Everyday, we come across news portraying the negative image of Pakistan but what do we do? We generally ignore them or just curse the fate but Kulsoom was different!
During her stay in the US when a channel reported that Pakistan is the most dangerous place to live in the world, she took charge and set herself on a mission to diffuse this negativity by promoting positive image of Pakistan. That's how i2i – Invest 2 Innovate was founded!
Brain drain has always been a serious issue of Pakistan as the bright students who go abroad to pursue higher studies rarely come back. i2i was founded to address this issue by grooming the ideas into small businesses through a three month acceleration program.
i2i's Impact Report states that 21 startups who graduated from i2i collectively raised more than 1 million dollars to create 850 jobs to date.
That's how Kulsoom turned a challenge into an initiative and proved that we have the power to write our future. Persistence is what's needed!
During the networking session when I got a chance to ask her a question that what should be the one single thing which aspiring entrepreneurs should focus on? She mentioned:
Entrepreneurs need to be humble and give up their egomania. They need to stick to their vision but more important is building a team who would share their vision.

-Kulsoom Lakhani
Momina Rajpoot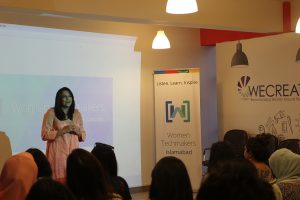 Momina is currently leading Telenor Velocity which is the first Telco-accelerator of Pakistan. Her story was all about 'challenging limits'.
She graduated from GIKI in 2009 and landed her first job as an intern in PTCL where she got exposure and hands on experience on telecom operations.
She confessed that she hated the job but had to do it till another opportunity knocked! Luckily, Nestle was looking for a Supply Chain Manager equipped with MBA Qualification whose job would be mobilize the trucks, and deal with the laborers. Despite all odds, she convinced the management to hire her. Momina explained:
The job was based in Sheikhupura, a place where many people would not like to go. But I challenged my limits. I have been through numerous transitions from being born in a small town to being admitted to a place where everyone spoke high level English.

-Momina Rajput
After serving Nestle for two years, she went abroad for Erasmus Mundus Scholarship Program. Later, when she came back to Pakistan. She got the perfect opportunity to be a part of Telenor Pakistan's transformation from a traditional telecom provider to a digital product organization. That's how Telenor Velocity was born!
When I look at her, I just can't believe that how fate turns in your favor when you 'challenge your limits'.
Bukhtawar Tufail
When her dreams of becoming a doctor shattered, she picked up those shards and dreamt a more challenging dream i.e. of commercializing bio-technology in Pakistan to lessen the gap of theoretical knowledge taught and practical knowledge which is implemented in industry.
I present you Bakhtawar Tufail, a Bio-entrepreneur and a MPhil research student at Quaid-e-Azam University. Little did she knew that her decision of joining Biotechnology in University of Peshawer will connect her with Dr. Faisal Khan who is Director at Institute of Integrative Bioscience CECOS and co-founder at Peshawar 2.0
He was the person who introduced "Bio-entrepreneurship" at University of Peshawar. Under his supervision, she started her work in the area of Synthetic Biology. Bakhtawar is developing an efficient cure for the treatment of cancer.  Her startup got 2nd position at Bio-E, they synthesized a modified, "TumoPhage" (as she loves to call it) that has the ability to specifically target Cancer cells and kill them.
Learn More About Her Work -> Bakhtawar's Work
When I asked that what should an aspiring entrepreneur focus on, she answered
People should not confine themselves to one single skill or single position. They should keep on exploring their abilities, that's exactly what I am doing.

– Bakhtawar Tufail
Hira Batool
Hira's story was all about 'gender stereotyping' and how to overcome it. She is an Acumen Fellow and founder/strategist at SheKab which has a fleet of 20 cabs operational in twin cities. SheKab connects female drivers with female riders. According to Hira, we pre-define the roles for girls and boys as children and expect them to behave and move accordingly. Gender stereotyping tends to suppress the talent of both young girls and boys. To boost productivity, we must give everybody an equal chance.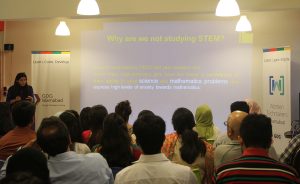 Hira won the prestgious Fullbright Scholarship in 2013 and went to the US to study Public Policy at Georgia Institute of Technology. This is where the idea of SheKab was conceived.
Currently, she is working as a project lead at Microsoft's newly launched Rozgaar.Work in Pakistan. Rozgaar.Work is Microsoft's Youth Spark Initiative. It aims to help job seekers by providing them career-guidance, job matching and mentorship.
Hira concluded by saying:
You were born with the ability to change someone's life, don't ever waste it.

                                                                                                                                                                         -Hira Batool
Maliha Kayani
Maliha is a graduate from i2i  and co-founder at ezpz sehat. The idea of ezpz sehat is inspired by the events that took place in Maliha's own life. As a teenager, Maliha suffered from a serious medical condition. Her parents had to struggle a lot to find the right doctor. Although Maliha healed after some time but the experience left a scar on her soul. She recognized a lack of access to quality care. People usually rely on the word of mouth of other people to find a doctor whereas health should each persons' personal decision.
I was just curious to know more about Maliha and when I got hold of her during networking session. I sought her advice on the secret ingredient for success as an entrepreneur. She laughed lightly and answered:
Keep the vision aligned. Love the problem, not the idea!
-Maliha Kayani
I have to say this hit me real bad. By saying this Maliha actually touched the pain point. We fall in love with the idea and fail to solve the problem!
Mavra Bari, Manager Communications and Outreach at WECREATE Pakistan Center concluded the event by thanking the participants and GDG Islamabad for providing WECREATE the opportunity to host such an event. The event perfectly aligns with the vision of WECREATE i.e. "Women Revolutionizing the World"
Women have been actively contributing to various areas of development in the country.  We all can well relate to the stories of these women, each one of us undergoes struggles and hard times. However, the stories of these women left me inspired. As I was travelling back home I felt myself motivated to overcome different challenges and be as dynamic as I am made to be. No doubt, the event served as a perfect opportunity to form new, useful linkages and lay the foundation of a more productive community.
Saad Hamid, the organizer,  posted his thoughts about the event on his Facebook profile: