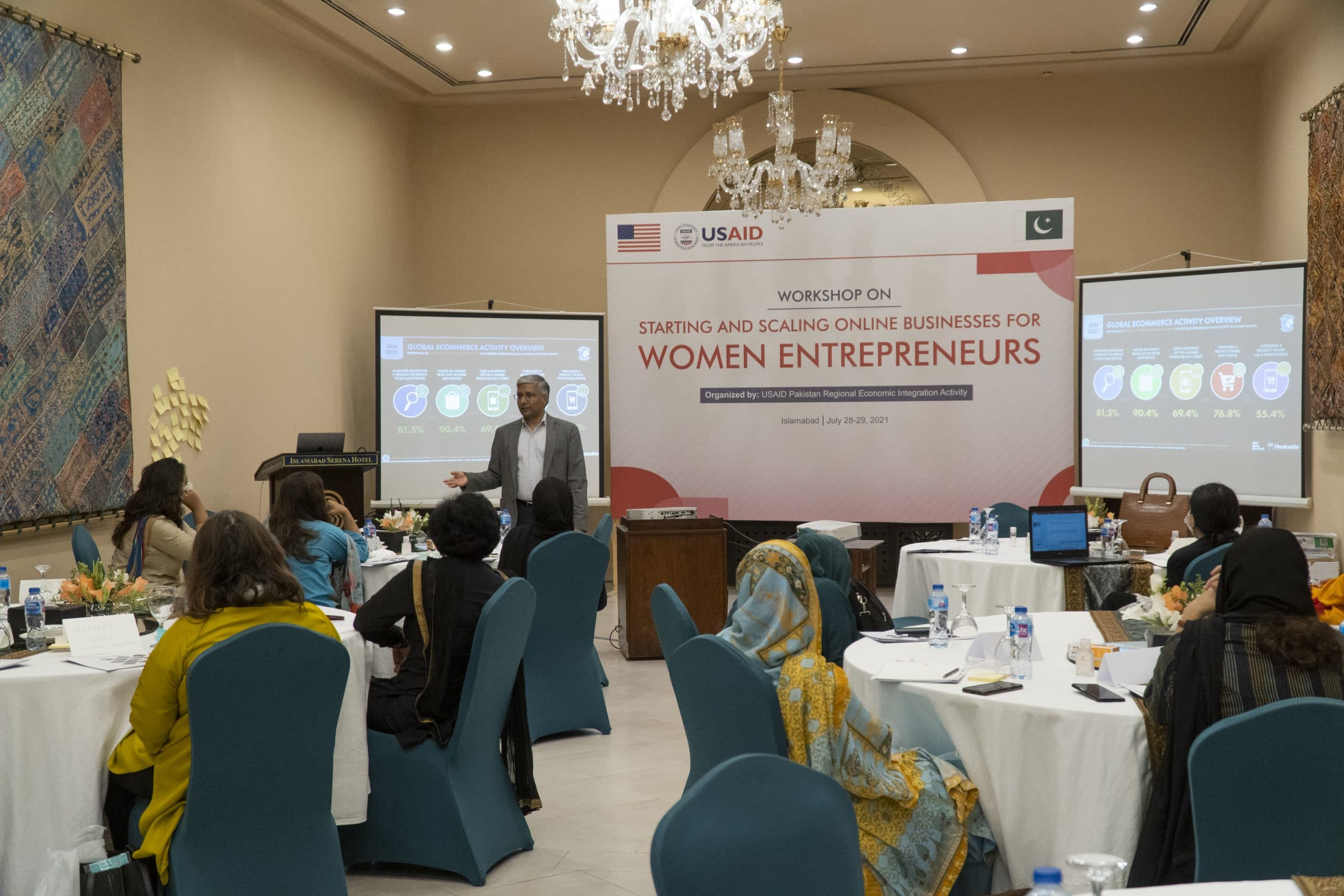 USAID Pakistan Regional Economic Integration Activity:
With the support of USAID Pakistan Regional Economic Integration Activity (PREIA), Change Mechanics Pvt Ltd conducted a two day training on "Starting and Scaling Online Businesses for Women Entrepreneurs". Change Mechanics actively worked to deliver the training material and reached out for continuous feedback to understand the trainees preferences. The two day training consisted of seven modules that were presented by Mr. Sayyed Ahmad Masud, Mr. Usman Anwar Khan and Ms. Saira Qayyum. The objectives of the training were to help SMEs develop strategies to overcome their challenges and benefit from the emerging ecommerce opportunities using appropriate tools and strategies. The training was goal focused and the Change Mechanics team made sure the training was effective, engaging, informative and interactive.
A total of 24 women led startups participated in this training. USAID selected these participants from a pool of candidates. A reasonable diversity was seen with start-ups coming from several disciplines including photography, boutique and IT services. Some of these startups were only a few months old whereas others were over 8 years old.
The training began with a pre-discussion to gain insight into the audience's knowledge and understanding of the topic. It was followed by Mr. Masud, CEO Change Mechanics, giving insights of the evolving national and global ecommerce landscape discussing how to understand trends and how to make sense of data.  He also discussed the changing shopping dynamics and the shift from traditional to ecommerce business. This was followed by another session where the trainings were introduced to the different types of  ecommerce business models, sources of funding for women entrepreneurs, taxation and other documentation required to run a business. In the next module, Mr. Usman Khan spoke about the process of setting up an ecommerce store and what platforms are available. He also discussed the difference between creating a platform and using an existing platform. Miss Saira than explained the importance of  Branding and its importance to any business. She explained the importance of creating consistent brand content and how to effectively communicate your brand identity to investors and customers. The training covered a range of other topics including, understanding the customer, segmentation and advertising. It also touched on the logistics of scaling up and the opportunities that can be availed in the market today.
The next modules  elaborated on marketing strategy, understanding data and analytics and using it to build a customer base. This module also introduced the trainees to the foundations of building an effective marketing strategy with the help of different social media platforms.  Logistics, warehousing and delivery networks were discussed and this was followed by a trend spotting module focused on making the participants understand how the evolving technological shifts and consumer behavior was creating both threats and opportunities for all businesses.
The PREIA training ended with two experienced women ecommerce entrepreneurs, Ms. Sehrish Waqas and Ms. Wajiha Ghazal as guest speakers who highlighted the challenges faced by women entrepreneurs and further shared their story on how they have tackled those challenges. The floor was later opened for discussion.
This two day training was a remarkable success and the participants shared extremely positive feedback.  It was a well delivered, interactive training and thoroughly appreciated by the participants. This training was funded by USAID PREIA and was made possible with the efforts of Change Mechanics Pvt Ltd.
One of the key objectives of Change Mechanics is to help companies understand how industries are being transformed under these technological advancements and how they can discover hidden value and potential in the market. We also help startups and SME's innovate their business models helping them with growth and survival.