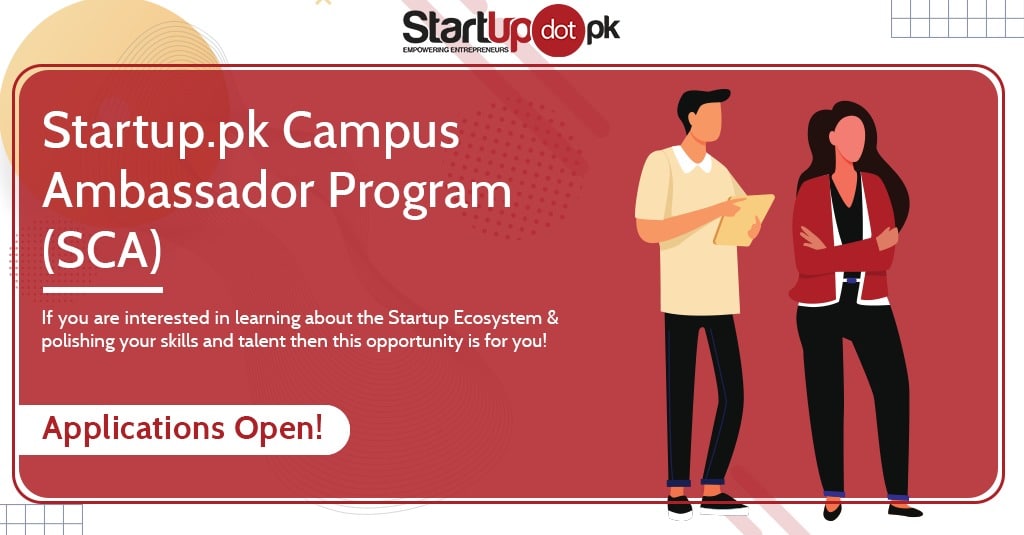 Startupdotpk is an online knowledge platform that offers startups and entrepreneurs access to opportunities, networks, information, and mentoring to improve their chances of surviving, succeeding, and expanding. While we are surrounded by founders and business owners, a lot of innovation starts on college campuses where creative people challenge themselves to create something from beginning.
Promote Startup.pk's objective of creating an entrepreneurial ecosystem on your campus by sharing your enthusiasm for entrepreneurship.
As part of the Campus Ambassadors programme, you act as a liaison between Startup.pk and your campus peers, disseminating fresh knowledge and resources and assisting in creating an awareness of the Startup.pk's features and services.
Campus Ambassador Program
The Campus Ambassador Program rewards students who are dedicated, eager, and driven by offering them the chance to promote Startup.pk on their campuses and gain knowledge and leadership abilities. This programme provides students who are committed to helping Startup.pk on their campuses and connecting with other Ambassadors around Pakistan with a leadership opportunity.
The Startup.pk Campus Ambassador program offers enthusiastic, young students the chance to take the first steps toward a developed and independent Pakistan. The ambassador will be a student volunteer who will be in charge of providing new perspectives to the firm through their content, information, and workshops as well as promoting Startup.pk in their university or campus.
This career path may be ideal for you if you are a driven individual with ambitious goals who enjoys working with smart, skilled people. Students have a one-of-a-kind chance to develop their skills and abilities at the national scale.

What Campus Ambassadors will be doing?
Execute a Marketing Campaign: Based on their analysis of what marketing strategies are most successful at their university, CAs will represent Startup.pk on their campus by pitching and implementing marketing campaigns. They will spread awareness of startup culture in their area and encourage university startup events.
Publish/Story Sharing: The Ambassador will post and share Startup.pk information on their social media pages. Once Startup.pk has content that is crucial in nature, we eagerly await ambassadors to spread it.
Networking: Campus ambassadors will make relationships and network with the majority of students on campus. To discuss project reports and outcomes, they will be in contact with the CAP Officer/Representative.
Leadership and communication: CAs will serve as a bridge between groups and will direct Startup.pk initiatives at their institutions. As a CA, you must conduct interviews on campus to uncover fascinating tales of startups or entrepreneurs. On behalf of Startup.pk, you will hold speaking engagements and carry out other tasks.
Feedback/Ideas: CAs will share new suggestions from university students with Startup.pk for effective implementation.
You have to conduct at least 2 events in a semester and provide us with a maximum of 4 amazing stories of startups or entrepreneurs.
Although we might pay for actual expenses, the real compensation will come from your exposure, knowledge, and networks. Keep in mind that you are investing in your future with this
Who can be a part of the Startup.pk Campus Ambassadors Program?
Pakistani undergraduate or graduate students who are aware of and concur with Startup.pk's aims
A mind with a focus on social media, including Instagram and Twitter, and the capacity to produce articles, videos, and interviews
Interaction and networking skills with others
Reliable, responsible, adaptable, and eager to offer and accept assistance.
Must possess strong interpersonal communication skills and be goal-oriented.
Have an optimistic outlook and lots of energy.
Ability to take the initiative, solve problems, and handle conflict.
Superb time management abilities.
Enthusiastic and independent.
Demonstrate the ability to lead, a professional attitude, and a solid work ethic.
Curious to learn more about the startup ecosystem
Being a Startup.pk Campus Ambassador is a deeply rewarding opportunity both on a personal level and in terms of your career prospects.
Why become a Startup.pk Campus Ambassador?
Nothing ventured, nothing gained, as the phrase goes. This is your chance to learn and explore, to discover your purpose, and to choose a profession that will serve as a lifelong passion. The time is now for investing in incredible prospects that have the potential to unlock incredible opportunities. Applying for a Campus Ambassadorship is a good idea because:
Networking You will have the chance to network and collaborate with a qualified team through Startup.pk. You'll also have the opportunity to network, interact with like-minded individuals, and forge ties that will be beneficial in the future.
You will be able to interact with various entrepreneurs and receive a close-up view of the entrepreneurial ecosystem.
Career Abilities Develop and hone skills that can help you advance both professionally and personally, such as leadership, communication, problem-solving, and public speaking.
Opportunities By attending events, workshops, or conferences, you can have access to various job options as well as potential future employment chances at WECON, Startup.pk, and Startup.pk.
Get published on Startup.pk through your articles, videos and content.
Participate in our Social Media
Resume Being an Ambassador for Startup.pk will add value to your resume/CV. Showing employers that you have represented an organization will give them the idea that you are dedicated and capable of handling many responsibilities.
Certificate Upon successful completion of the Ambassador Program, you will receive a certificate.
Get exclusive entry to Change Mechanics, Startup.pk, and WECON events
Obtain the chance to carry out research or interviews in the Change Mechanics Research Wing.
Have Fun Last but not least, you'll have fun. You'll get to socialize, go to events, get merchandise, and participate in activities that will help you make the most out of your university experience.
In a word, a campus ambassador is responsible for promoting Startup.pk events on campus, whether they be promotional, instructional, or anything else. The main duties of the ambassador are to find out about entrepreneurial stories on their campus as well as to spread awareness of Startup.pk.
If you are interested in joining this program, please send an email to Ruqaia@changemechanics.pk mentioning your name, semester, course and university and two paragraphs about why you are interested.