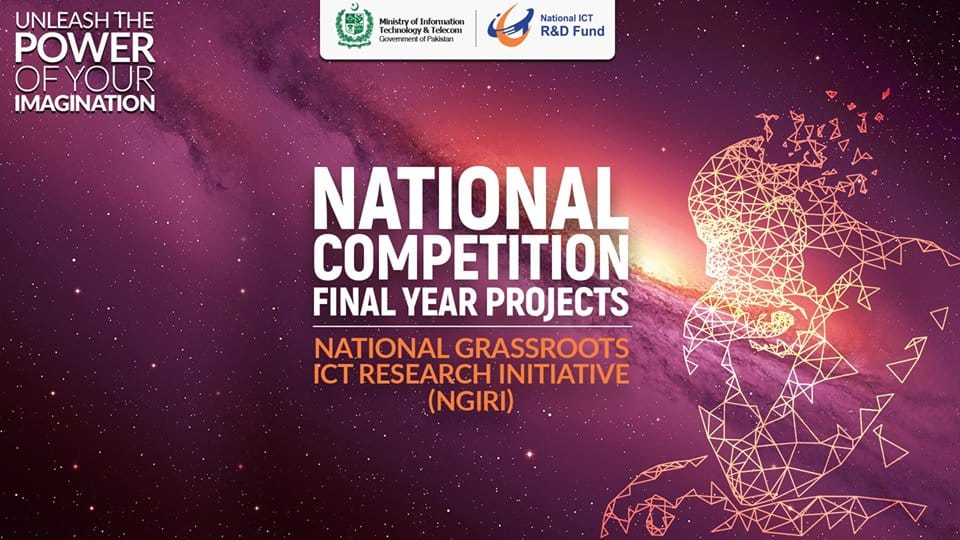 National ICT R&D Fund under its National Grassroots ICT Research Initiative (NGIRI) conducted a National Competition of Final Year Projects. The event was organized and managed by Events7 at Margala Hotel, Islamabad. The main objective of the event was to instill R&D culture among students by funding relatively high level and promising R&D projects. The event was launched with a magnificent opening ceremony and Minister of State for Information Technology and Telecom, Ms. Anusha Rahman, graced the event as Chief Guest. Other distinguished guests included Mr. Ghazanfar Ali Country General Manager, IBM Pakistan and Cloud Lead for IBM Mr. Nadeem Malik.
A total of 32 projects from all over the country were displayed. The projects were then judged by Judges and narrowed down to 3 projects as winners of the competition. The projects were assessed on the basis of creativity, novelty, application, value and commercialization of ideas.

The awards ceremony was carried out by the Minister, and a cash prize of Rs. 400,000 was awarded to 1st position holder Zain Qasir and Hamza PNEC NUST for their project: Power Watch Dog. The second position holder Ali Gul from Balochistan University of Information Technology was awarded a cash prize of Rs. 300,000 for his project: Smart Helmet for Coal Mines. Whereas, the 3rd position with the cash prize of Rs. 200,000 was won by Owais Ahmed and Hassan Cheema university of Faisalabad and his team for their project: Design and simulation of fire tube boiler using PLC to avoid industrial boiler accidents.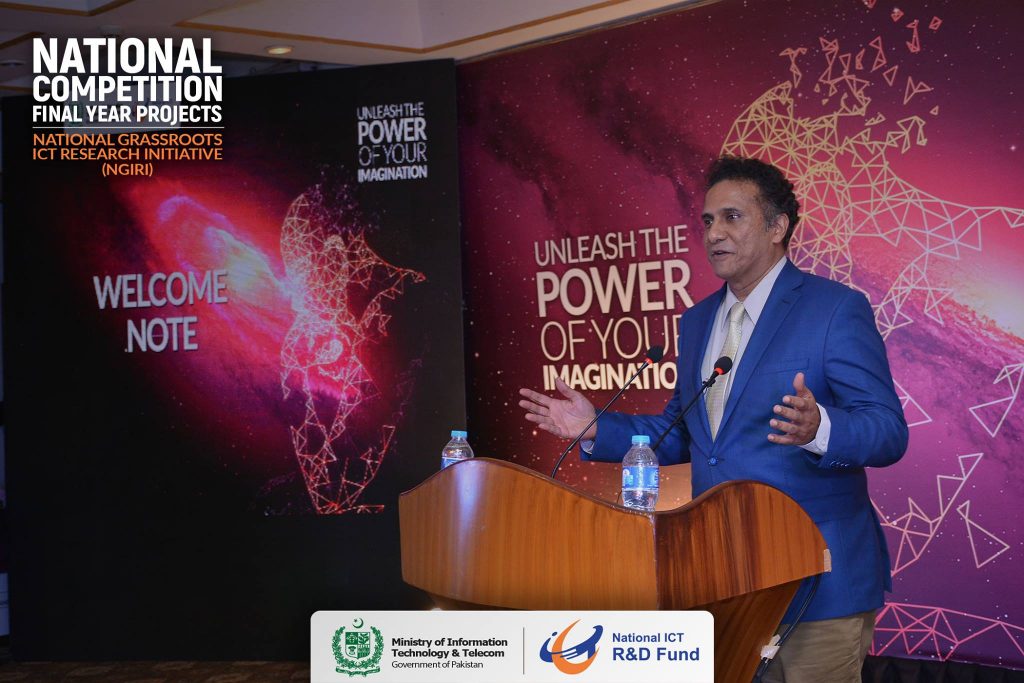 While speaking on the occasion, Mr. Yusuf Hussain CEO National ICT R&D Fund said that "We have participants here from locations as distant as Jamshoro, Quetta, Shaiwal, Haripur and Mansehra. The universities participated from all over Pakistan, not just those from Lahore, Karachi and Islamabad's elite universities. It's a sense of accomplishment that we have been able to engage people from across the country."

Mr. Ghazanfar Ali Country General Manager IBM Pakistan spoke about the collaboration of IBM with National ICT R&D Fund on the provision of development tools for funded projects and learning tools for freelancers. He added, "The future is quite different from what you have seen in the past. In the past we were looking for people with experience; now we are looking for people with intuition and passion."
IT Minister, Ms. Anusha Rahman concluded the session with the following comments
"Gilgit and AJK will InshaAllah receive broadband later this year" – Hon. Chief Guest Ms. Anusha Rahman#NCFYP#Ignite#NIRF

— Ignite (@IgniteNTF) May 19, 2017
"next 5 years the commerce has potential of going up to to 2 billion dollars" Hon. Chief Guest Ms. Anusha Rahman#NCFYP#Ignite#NIRF

— Ignite (@IgniteNTF) May 19, 2017
"I believe coding is the future" – Hon. Chief Guest Ms. Anusha Rahman#NCFYP#Ignite#NIRF

— Ignite (@IgniteNTF) May 19, 2017
She also highlighted several initiatives being undertaken for ICT penetration in Pakistan
"We are setting up 4 incubation sectors, one in each province" – Hon. Chief Guest Ms. Anusha Rahman#NCFYP#Ignite#NIRF

— Ignite (@IgniteNTF) May 19, 2017
"We are going to connected the unconnected" – Hon. Chief Guest Ms. Anusha Rahman#NCFYP#Ignite#NIRF

— Ignite (@IgniteNTF) May 19, 2017
The National Competition of Final Year Projects intended to encourage students' innovative and creative thinking and enhance their hands-on engineering and development skills. The funding under the program enabled students of public and private sector universities, undertaking Final Year Projects (FYP), to develop prototypes and commercialize their projects in emerging technological areas.
During the event, StartUpdotpk Team had the opportunity to gain a first-hand perspective of the innovative projects by students. Here is a list of the projects that caught our attention.
1. Power Watch Dog
The project is able to monitor Distribution Transformer's health parameters, and control its ON/OFF state remotely 24/7 and also has an interactive GUI for data visualization to take corrective measures.
2. Virtual Dressing Room
A virtual dressing room where one can try clothes without the need of changing rooms by standing in front of a big LCD screen to check all the collection of that brand virtually fitting on you.
3. Urdu finger reader
It is an app that helps users to read Urdu printed text in real time using a camera.
4. News portal
The news portal will bring the news information together from diverse sources in a uniform way. The News Portal app will help the reader to have access to news from leading newspapers of Pakistan with utmost ease. News portal provides brief and detailed news summaries as well as frequency analysis for Dawn, The News, and The Nation newspapers. The main concept is to present the user with a single web page that brings together or aggregates content from a number of other systems or servers.
5. PLANTICO
The application named as PLANTICO aims to use Image Processing techniques to detect plant diseases. Detection of plant disease through some Image Processing technique is beneficial as it reduces a large work of monitoring in big farms of crops, and detects the symptoms of diseases at very early stage. Moreover, the process is time saving and cost effective.
6. Automated Anti-theft Electricity Distribution system
The major objective of this project is to design such system which will automatically detect and control theft of electricity in the form of illegal connection from the distribution line.
7. Brain Controlled Wheel Chair
Development of a wheelchair that can be controlled using signals from human brain.
8. Ultrasonic Blind Walking Stick
Ultrasonic Blind Walking stick has been designed for visually disabled people for improved navigation.
9. Safe Driving
Driver fatigue is a significant factor in a large number of vehicle accidents. Recent statistics estimate that annually 1,200 deaths and 76,000 injuries can be attributed to fatigue related crashes. Safe Driving app is designed to monitor drowsiness of driver and speed check.
On the whole, the event was a success and encouraged the student community from different cities of the country by providing them the opportunity to showcase their innovative projects.
[bibblio style="bib–font-arial bib–size-18 bib–recency-show bib–default bib–hover bib–shine bib–white-label bib–grd-6″ query_string_params="e30=" recommendation_type="optimised"]