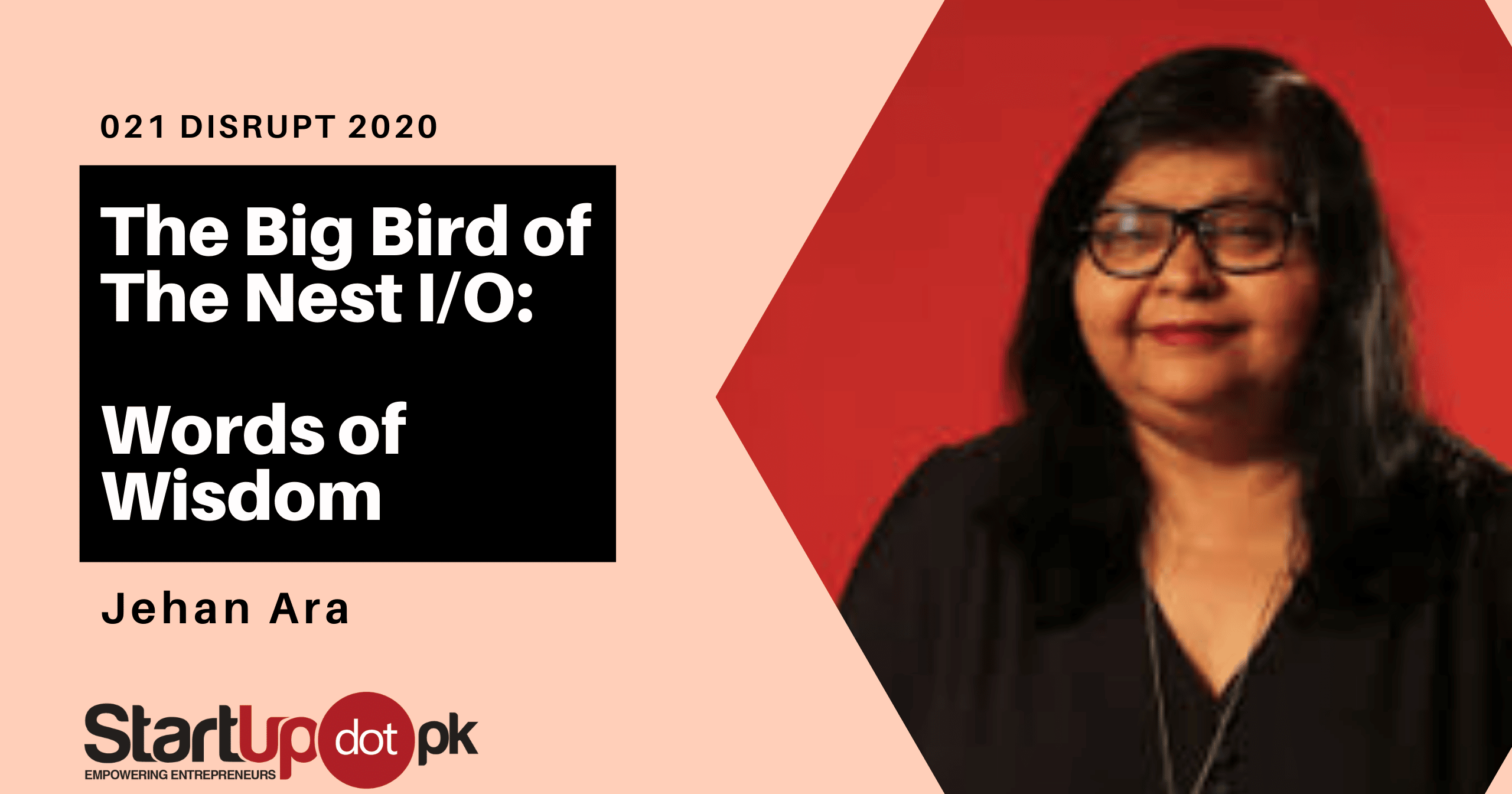 The

Big Bird

and Her

Nestlings
Entrepreneurial ecosystem in Pakistan is picking up pace especially during the COVID-19 Pandemic. Where we have so many institutions and bodies claiming to provide resources and opportunities to the emerging entrepreneurs in Pakistan, very little is being seen on ground.
However, there are some prominent names in the entrepreneurial sphere who are making waves by highlighting the pain points of entrepreneurs and bridging the gaps between those providing opportunities and those seeking them.
When you talk about Entrepreneurship, Incubators, Accelerators, and Networking, you will find Jehan Ara's name in the list of such people who are not only nationally recognised but internationally as well.
Jehan Ara is the powerhouse behind P@sha, Pakistan Software Houses Association and The Nest I/O. She is many things from being a leader, advisor, coach, mentor to an entrepreneur, marketer, innovator, disruptor, and eco-system builder.
 She started The Nest I/O with a burning question in mind:

"What do Pakistani Entrepreneurs need?"
A series of bread crumb trails led to the birth of The Nest I/O, a place where like-minded, thinkers, innovators, disruptors, and entrepreneurs could meet and network.
Despite being a woman in Pkaistan and in the tech ecosystem, The Nest I/O opened its doors to the public in 2015 and since, then has evolved from being not only an incubator but a community hub and a "nest" for the younglings to grow and learn under the "big bird's" wings.
Not only this but every year for the past 4 years, they have been organizing the premier entrepreneurship conference, 021 Disrupt, that is globally recognised and most anticipated event of the year.
Startup.pk was one of the exclusive media partners to The Nest I/O for their 4th year running conference, 021 Disrupt 2020 that was organized virtually for the first time thanks to COVID-19 and that to absolutely FREE!
---
---
Here are is a strong opening note by Jehan Ara from the 021 Disrupt 2020 conference.
7300+

entrepreneurs and innovators attend 021Disrupt,

5

major investment announcements,

315+

startup office hours
Jehan Ara officially commenced the virtual conference by welcoming everyone to 021 Disrupt 2020 and emphasizing on the 2 key parts to her opening note.
The first note was a big Thank You to everyone involved in making the six days of the conference possible and worthwhile. The second was her personal piece about 021 Disrupt 2020- Wired.
She thanked the sponsors for their support and vision for not discarding the concept of hosting a live virtual event absolutely free for anyone to attend anywhere in the world!
It is a positive and great sign when multi-national organizations support the startup ecosystem especially in the emerging markets. Financial support is always appreciated and warranted but taking out your time and imparting your professional experiences to the masses is also commendable which the key speakers did wonderfully.
Sponsors' List:
Platinum Sponsors: HBL Pay
Gold Sponsors: Engro Corporations
Silver Sponsors: Wisdom.AI and DH Corporation
Bronze Sponsors: FatimaGobi Ventures, Pakistan Software Export Board, Unilever, Reckitt Benckiser
Community Partners:
Amazon Web services
P@SHA
Momentum
Atoms
 Media Partners:
Dawn
Startup Guide
FM 91
pk
TechJuice
TechWafer
ProPakistani
Daily NewsPK
Profit
Business Recorder
Ecosystem Partners:
NIC Quetta
Epiphany
Invest2Innovate
NIC Karachi
NIC Islamabad
---
---
Personal Piece
This what you see around today and what you will continue to see for the next 2 days is a very personal journey for all of us at The Nest I/O. And when I say "US" at The Nest I/O, I mean all of us including the core team, the support team, our founders, our startups, our mentors, our friends, volunteers our well-wishers, and the extended ecosystem. Why do this? We are often asked. Why does it matter? Why is it important? I remember being a young founder.
I remember being lost, and strangers lending a helping hand. Mentors opening doors, offering guidance, and showing me how the world works, asking nothing in return. I remember the difference those connections and their selflessness made in my life. How lucky and blessed I felt. For young men and women with dreams, making connections is hard especially ones that can make the dreams become real. Starting conversations is hard, opening doors is hard, asking questions is hard. Sometimes, to continue believing in dreams you have believed in is the hardest thing you can do. More so in a year 2020.
But what helps and makes it possible for many of us to cross that bridge and what makes it easier is when someone we don't know comes and stands by us and says I believe in you and your dreams. I will stand by you through your journey. I will hold your hand and shine a light through your path. Or a fellow traveller steps up and joins you on your journey, different destinations yet similar paths but good company and shared burdens.
7,000+

Registered Participants |

77

Speakers |

47

Sessions | 2 

Days
Not all dreams become real, some end in heart break, some are lost causes but once again the kindness of fellow founders and strangers lends a healing touch. People who have walked in the same shoes with same stitches and cracks in their soles know what it takes to come back from the depth of the darkness.
Listen to the full version of Jehan Ara's Opening Note and Advice.
This is deeply personal for all of us as we have seen how dark the abyss is, we have witnessed the heartbreaks, the tears, the helplessness first-hand, but we have also seen how high teams can soar. When planets align, when the universe comes together to make it possible for them to rise higher. When one of us soars, all of us rise with that team. Our collective ability to dream and make those dreams real is the most important in our lives at The Nest I/O. It is what gives our lives meaning. It is what we live for because when one of us wins, we all win.
Finding people who believe in the dreams of others is also hard. We have been fortunate enough to be able to do it consistently for 4 years at 021 Disrupt. This year too before the conference had started, 300+ Office Hours have been conducted between founders, investors, and mentors. And while the event remains online, side bar conversations will continue for the next few weeks and in some instance months.
The army of volunteers and team behind this are working much harder for the online event as they did for the offline for 3 years back.
"Tread softly because you tread on my dreams"- William Butler Yeats
We need dreamers to change our world. To value dreamers, we need to learn to respect dreams and the individuals who dream them. Bringing people together is how dreams and ideas become real. Doing that during a global pandemic is a challenge.
Once again, I am grateful to all those who helped, accepted the challenged and made these 6 days possible. Primary purpose of 021 Disrupt is to make connections, start conversations, build relationships, and help make dreams become real in the ecosystem. Bringing strangers together who believe in the dreams of other strangers- the hard work is done, and we are all here today.
---
---
021Disrupt is an entrepreneurship conference that brings together the local and global startup community to help our ecosystem flourish, held by The Nest i/o every year. The conference is for anyone who considers themselves to be a creator, future leader, or risk-taker. Whether you're interested in learning more about the startup ecosystem in Pakistan, a budding entrepreneur, or have your own startup, you're welcome to attend!
The Nest I/O is a technology incubator and a community hub launched by P@SHA (Pakistan Software Houses Association for IT & ITES) and a global partner of Google for Startups. We provide budding entrepreneurs with space, infrastructure, facilities, and knowledge sessions as well as access to a network of mentors and potential investors. Since its inception in January 2015, The Nest I/O has graduated 160+ startups over 9 cohorts through our best-in-class incubation program. At the same time, we have been involved in various projects and events, ranging from promoting technology education to facilitating engagement between the startup community and our corporate partners.
Startup.pk, the flagship project of Change Mechanics, is a platform that helps startups build successful companies by helping them avoid the pitfalls and mistakes that are the main reasons for startup failures. It is our mission to encourage innovation led problem solving to create local solutions to benefit Pakistani society and industry. We help startups understand customer centric design and the process of developing marketable products and services.  Startup.pk aims to cover the essential gaps of knowledge, networks and mentorship that currently exist in our ecosystem and to help startups succeed by utilizing their limited resources more efficiently through effective bootstrapping. Startup.pk's core functionality focuses on providing relevant national and international examples as well as the framework, processes and tools necessary to navigate each part of the startup journey successfully.
---
---