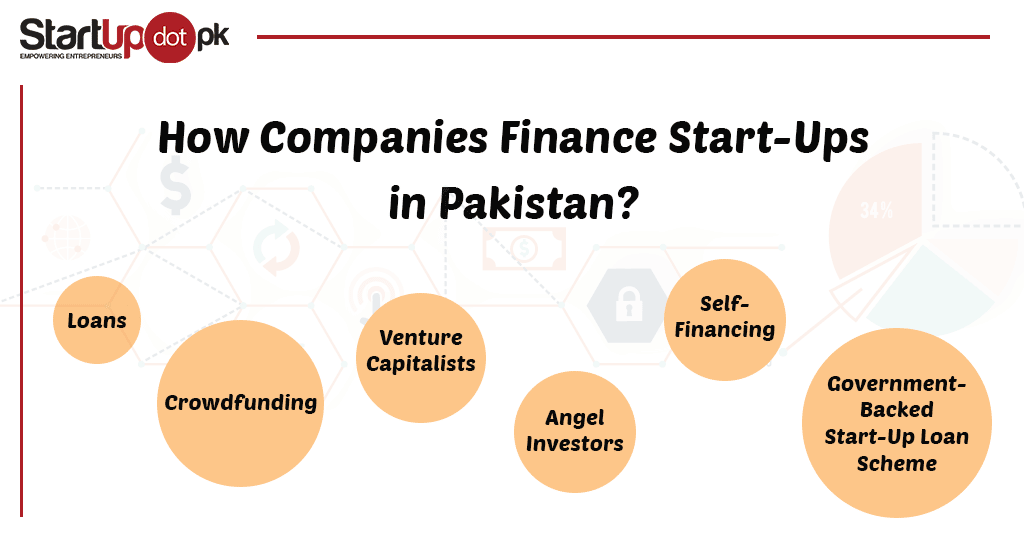 There are plenty of different ways through which companies finance their start-ups. Whether it may be to hire private investors or to be gathering finances through crowdfunding, angel investors, venture capitalists, self-funding (bootstrapping), and bank loans and government-backed schemes. Funding your start-up can help you gain an advantage as it will provide cash flow that will aid you in financing the business. This will also enable you to plan for the future growth of the business. Start-ups in Pakistan are on the rise as they show their untapped potential. The start-ups in Pakistan have accumulated a total of $468 Million of global capital since 2021. Moreover, 83 start-ups in Pakistan have raised $350 Million. And so far, this year alone, the sector has already raised $136 Million.
Can You Finance a Start-Up?
When a business owner is trying to raise funds for a new business start-up, it is important to keep in mind that nothing is ever received for free. Business investors also known as lenders always have to get something in return in order for capital to be raised. Therefore, it is imperative to have a fool-proof business financing plan so that such issues can be dealt with effectively. Lenders usually need some form of security to ensure that their expectations will be met. Similarly, if you believe that you have the knowledge, skills, and finances to get investors and you fit into the specific criteria required by the investors, then you will have almost no problem finding investors who are willing to raise capital for your start-ups. Moreover, this might be a better option for some individuals who are thinking of taking bank loans.
How Do I Get Funding For My Business Idea?
A business can be funded in many ways. New business owners usually decide to use the "boot-strap" method. Bootstrapping means using one's personal finances to fund the business it also includes borrowed or invested funds from family and friends. Furthermore, it also includes the income from the initial sales of the business. The benefit of bootstrapping for start-ups is that the business owners will be able to retain their equity as with investors supporting a business, it can be difficult to retain full ownership of the business. However, bootstrapping is not for all as not everyone is able to raise a large number of funds. Every business has unique goals, some businesses may want to invest in newer technology before they put all their money back into the business. Therefore, it is best to choose the option that is most suitable according to the business owner's goals and objectives for the business. Fortunately, there are many businesses funding options besides bootstrapping.
Types of Funding For Start-Ups
Loans:

A start-up loan for a business is the most common way to finance a newly formed venture. They are issued by financial institutions, corporations, and the government and are repaid after a certain period of time usually with interest. It is advised to have secured loans – such as equity in money or assets to provide some sort of security. For unsecured loans, lenders may ask for a personal guarantee for security. E.g., the National Bank Of Pakistan's Credit Guarantee Scheme provides loans to start-ups and rural enterprises.
Crowdfunding:

Crowdfunding is a great way to gather funds for a newly formed start-up. It involves the use of an online platform where many people donate money in order to finance a project or a new business venture. Thus, the company will receive the generated money and the investors will take a small percentage of the share in the business. Crowdfunding platforms in Pakistan include Seed out, Transparent Hub, Care Foundation, Pink Ribbon, and TCF.
Venture Capitalists:

This is a form of private equity financing in which Venture Capital firms invest in small-scale start-up businesses in exchange for holding a percentage of the shares in the company. It can be quite challenging to acquire funding through this means within Pakistan however, it is not impossible.
Angel Investors:

Angel investors, also known as private investors, are ones that have a high-value net worth and provide financial aid to newly formed start-ups.
Self-Financing:

Many business owners decide to use their personal savings or bootstrapping in order to finance their new business venture although it can be very challenging for some. Others may ask their friends and family for support.
Government-Backed Start-Up Loan Scheme:

The government of Pakistan has launched a Youth Entrepreneurial Scheme called "Kamyab Jawan Scheme" to finance the needs of young entrepreneurs. This is a great way to get funds for a new start-up.
Conclusion:
With such an array of options, as a business owner, it can be quite difficult to figure out what type of funding would suit your business needs therefore, it is imperative to have a fool-proof business plan and with the right knowledge and skills, a business will be able to find investments in no time.