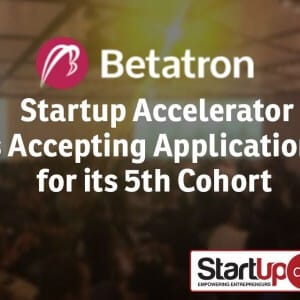 ​Betatron was founded in 2016 by a group of the leading Venture Capital firms in Hong Kong, including Mindworks Ventures, Vectr Ventures, Cocoon Ignite Ventures, the Aria Group, IC Studio and Incu-Lab.
Betatron a network of Investors, Entrepreneurs, Startups and Mentors focused on empowering founders. Through this platform, startups are provided funding, hands-on support, and unprecedented network access to drive business outcomes. Betatron invests in promising startups, refines their business models and fast-tracks them to grow and scale over an intensive three-month period.
Figures & Facts of Betatron
300
USD invested so far | 
100
Startups
---
---
About the Program:
​Betatron provides companies with financing as well as an intensive acceleration program which focuses on business development, growth and fundraising. 
Also it provide startups with one-on-one mentorships with leading executives and integrate start-ups into business networks across multiple industries.
Betatron will be investing up to US$150,000 in each startup. 
It provide your startup with free office space for the duration of the program.
Our network allocates hundreds of hours of hands-on mentorship and support for each startup.
Structure:
Betatron structure their program by analyzing each company in a personalized and individualized basis

​Companies are expected to attend at least one weekly meeting & one company check-in throughout the course of the 3-month program. Betatron also offer additional workshops, mentors sessions & events. 

Demo Day occurs at the end of the program during the final month.

After the program ends, Betatron maintain a strong relationship with all alumni and continue to facilitate introductions and connections to network. 

​
---
​