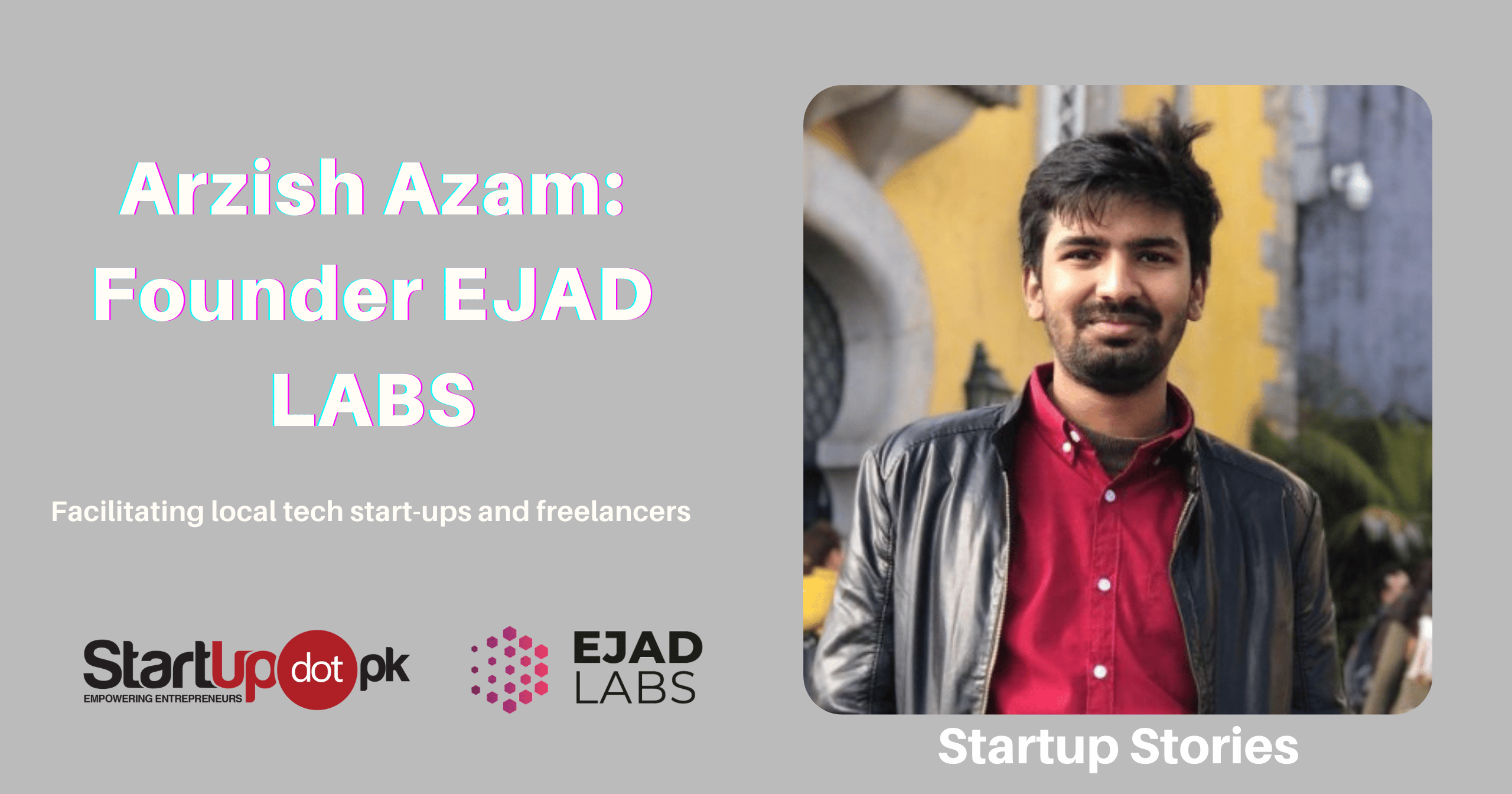 "If

YOU

don't have competitive advantage,

don't

compete!"-

Jack Welch

of General Electric.
At a young age, Arzish specializes in community building, entrepreneurship, youth advocacy, and innovation travel. He is the CEO of Ejad Labs, Country Manager for Startup Grind Pakistan, and the youngest global graduate of Founder Institute Islamabad, Alumni ofPlan9 – PITB's Tech Incubator & National Incubation Center Islamabad. He recently launched a month-long Global Pakistan Tech Summit 2020.
---
---
Among his many projects, following are a few which cannot go without mentioning:
1.     Global Pakistan Tech Summit 2020:
Arzish launched a Tech Summit with the idea of showcasing Pakistani Tech start-ups and talent around the world. The idea was to provide opportunities to the youth, as he believes to give back to the society what he once received as a youth himself with little resources and network.
A tech summit was organised last year in Europe to present Pakistan tech talent, and a similar event was held in silicon valley USA in February this year. Though the event organised for Toronto could not be materialised due to Covid.
This gave the idea of a month long virtual Summit, which could be attended at any convenient time, at varying session timings. It involved both speakers of Pakistani origin and non-Pakistani origin who have made their mark in tech industry around the globe.
---
---
Through this initiative Arzish and his team want to help globalize Pakistani founders; Hence, they have collaborated with a digital bank in the US to facilitate local tech start-ups and freelancers to access PayPal, stripe and US based banks. This resolves the problem for tech businesses to make or receive payments and gives them better access in US and global market, once their Paypal or bank account gets active through this service.
---
---
3.     Startup Grind:
This is the largest startup community in Pakistan and is a global forum and Arzish is the lead in Pakistan, operating it in 15+ cities presently. Due to Covid, in the past months the focus has been on virtual sessions celebrating Mentorship. This aimed at connecting Mentors and start-ups and establishing a relation between them.
Arzish and his team are doing a remarkable job of creating global connectivity. Start-ups approach them to help and guide them to attain international exposure, hoping to market their product or raise finances for it. They help them connect with different markets, such as Silicon Valley, Europe, UK, etc. over seminars and conferences conducted there. Start-ups apply and they guide them as to their position and success rate if they go abroad.
Future of Start-ups in Pakistan:
Arzish believes that during Covid start-ups that were health sector related have seen great growth. He suggests that even post-Covid problem solving start-ups that focus on bringing services at the door step, such as health, education and retail, will be more in demand.
He further advices that there is need to educate start-ups that raising funds or finances is not the initial step of a startup as many  wrongly detract themselves from the correct path, believing they need funds to initiate their start-up. Instead they need to focus on solving problems for which a customer will be willing to pay and establish their value.
---
---
Once this is achieved then they may need finances to grow their resources/ infrastructure. He sets the record straight that nowhere in the world, apart from Silicon Valley, even in other parts of the US, does a start-up get finances for an idea. Even in Silicon Valley financial support is given to companies who have established a reputation and investors finance it knowing that the person has earned the trust that he/she will execute an idea.
You got an idea! What's next?
Most of us believe that we got a unique idea and now it should start cashing. This is a wrong approach. When an idea is brought to the table, the next step should be to check whether it's in demand, if the customer will pay for it, competition exists etc.  For a start-up to stand a chance at success it should be:
Problem solving
Sustainable and organic growth
A-list team
---
---
Conclusion
Thus, to conclude, it is evident that there is great potential in Pakistan. All that is needed is guidance for start-ups in the right direction. This can be done through forums such as Tech Summit, Ejad and Start-up Grind, which provide the platform for start-ups to promote themselves.
---
Disclaimer: This article is written by
Yusra Mir.