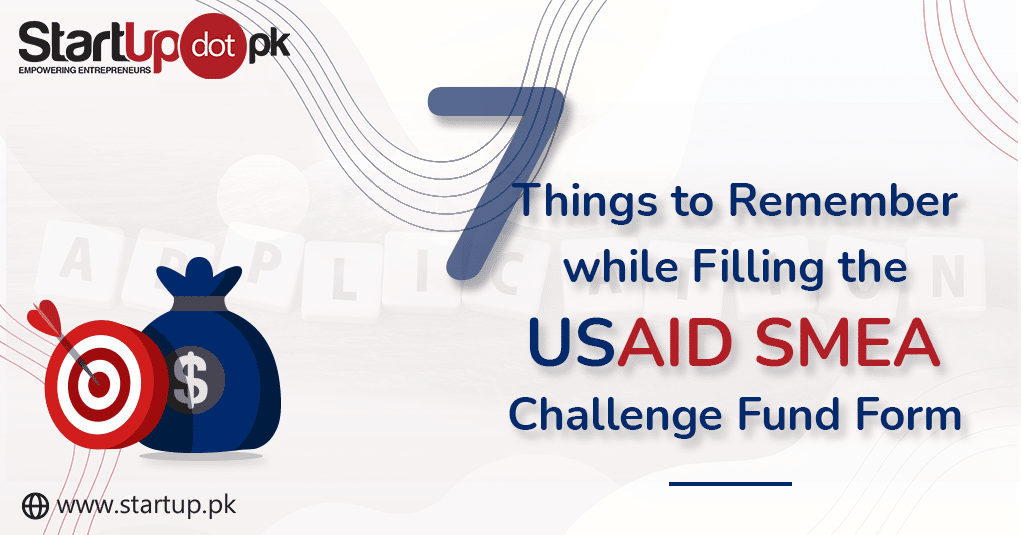 Challenge Fund; a grant funding opportunity for the economic growth and development of SMEs, is operating under USAID Small and Medium Enterprises Activity (SMEA). The purpose of the fund is to provide financial support to SMEs working in ICT, Hospitality, Logistics, Textile (minus spinning), Agri business & Processing (Off Farm), Light Engineering and Women-Owned Enterprises (Any sector) of Pakistan. Following are some important points to be carefully noted while filling the application form.
1. Read the Eligibility and Ineligibility Criteria Carefully
Before filling the application form, carefully read the eligibility and ineligibility criteria to avoid wasting time and effort. Unregistered or under-process businesses and those without documentary evidence of registration, NGO's, staff members, subcontractors, and existing grantees of USAID SMEA are ineligible for the grant fund. Registered companies lying under the mentioned seven targeted sectors are eligible for the grant application.
2. Highlight the Target Sector you are Applying In
The USAID SMEA Challenge Fund grant is available for SMEs from the seven sectors and only SMEs belonging to these sectors can apply. Women-led SMEs are highly encouraged to apply. There is no sector limitation for women entrepreneurs, and they can apply for grant from any business sector (the only exclusions are On Farm activities and textile spinning sector).
3. Calculating the Grant Amount Request
Instead of filling the budget first, it would be a good idea to first outline the activities that you are planning from the grant fund. The grant has a ceiling limit of 7.5 million rupees but you should only request the amount based on your actual needs and your project requirements, however bear in mind that Sweat Equity (your own matching contribution to the grant funds requested) is a part of the evaluation criteria. Once you have completed your working, fill the budget sheet in the end. Remember that the amounts in the budget sheet (Annexure B) and the amount requested in Annexure A, should both be exactly the same. Also, the budget needs to be in Pakistani rupees.
4. Contribution of Sweat Equity
The amount of sweat equity (which means the amount that you are putting in yourself or are arranging through other third parties) is an essential part of your grant application. There are marks allocated to how much of the grant amount you are matching with your sweat equity. Therefore, it is important to understand if your request is only for grant funds without any matching sweat equity, your chances of winning the grant become negligible.
5. Provide the Most Relevant and Latest Contact Information
Who will be the focal person from your company for the purposes of this grant? Share the current contact information, phone and email address of the person who will be coordinating with USAID SMEA if your application is shortlisted for further processing. In other contact information, list who are the key management employees that will be managing the grant, their information is also requested and should be fulfilled appropriately.
Business NTN (for sole proprietors), Company incorporation certificate or Partnership Registration Certificate must be attached as proof of registered status.
Project Duration
The SMEA grant is being given for a specific period of activity which is five months in this case. So, you must ensure that the plan of your proposed activity must be completed within the five months period. Longer duration grant applications may not be shortlisted. So, make sure that whatever activity you are selecting, it can be completed in the duration that is proposed by SMEA.
Be Concise and Precise
Understand every question, carefully write down the answer, avoid any long and irrelevant details but make sure that anything that is important and relevant is included in your answer. The grant application has a page limitation; therefore, you need to be clear as to what is the most appropriate answer that can help the evaluators look at your application favorably. Silly mistakes and casually filled applications reduce your chances of success.
6. State the Expected Outcome and Budget Required for the Activity
USAID SMEA focuses on the following key outcomes i.e., increased jobs, sales, exports, exports growth, adoption of technology and new practices, access to finance, access to market and improved performance of women-led enterprises. Whatever proposed activity you are undertaking with the growth grant fund must result in an impact in at least one of these areas. Carefully consider whether you are creating more jobs, increasing exports, or creating more revenue for your business? Your application will be evaluated based on these outcomes of the grant activity.
The grant budget sheet (Annexure B) already has the formula embedded so you just have to fill in the details and it will do the calculations itself. Make sure that the budget figures match the figures that you are writing in Annexure A. The budget must have a measurable impact on the outcomes outlined above but be mindful that this is a growth grant to help your business grow and become more sustainable. So, if the major portion of your grant request focuses on let's say, buying raw materials only, that does not mean sustainable growth and reduces the chances of your application making the next stage.
7. Must Check your Documents with the Checklist
Make sure that you are attaching all the relevant documents for example, owner CNIC's, copy of organizations registration documents, etc. Please double check with the checklist provided at the end of the application form. Anything that can add additional value to your application should also be attached. In case you miss any of the required documents, your application may be rejected.
That's it! Best of luck with your application and do remember to follow us on our Facebook page  and visit our website for useful information that can help your business become more successful.
(This article is written based on Startup.pk's understanding of the grant application process and has not been vetted or endorsed by USAID SMEA or Chemonics International).