غمِ عاشقی ترا شکریہ، میں کہاں کہاں سے گُزر گی
Every crisis and difficulty helped me progress in life

-Shamoon Hashmi

When we talk about literature, intellect and social activism, Nation Pakistan is enriched with the personalities exhibiting a perfect mix of these traits among the finest pieces we have Mr. Shamoon Hashmi, Who represents an inclusive, broad spectrum career. Engineer by profession but an 'Artist' by heart Hashmi has substantial experience in disciplines of print and electronic media, development sector, civil service, academia and legislative service. Not only this, but he played himself as a TV anchor, compere, Script Writer and a documentary producer. Mr Shamoon Hashmi now serves as a joint secretory in National Assembly of Pakistan and holder of two national awards has an amazing story which he publicized through the platform of OPEN Islamabad Annual Forum 2015.
"Literature is a textually transmitted disease, normally contracted in childhood."
Hashmi had the pests of this disease from the early childhood. He was born in a poverty stricken family. His jobless father had a burden of 6 family members to sustain. He barely had any money to make both ends meet. You can estimate the poverty level from this that after giving birth to Shamoon Hashmi his mother just had a cup of tea and 2 crackers at the meal , but despite of all the financial constraints Shamoon's father gave his son best possible education.
In university when Shamoon thought it was time to pack his bags and go home because his father cannot afford his semester fee anymore. He was assured by his father, 'Shamoon your sisters and mother would eat meal one time a day, but I won't let your name appear on the notice board' (Hashmi's Father).
Hashmi was the man of principles who instead of following the eastern standards of being a man (who tend to be manly by dominating their women) preferred being called as unmanly and timid. He says that "I believed, instead of contesting like a man I should feel it like a man".
Paradoxically, Hashmi was an introvert but at the age of 11 he was pushed to the stage, which helped him mitigate his stage fear and step out of his comfort zone. His father was the political activist of Taraki Pasand Tehreek (Progressive Writers' Movement) so, he spent his entire childhood in the lap of political and philosophical talks that instil in him the desire to study philosophy and political sciences but surprisingly, he was condemned by his family members.
'I took admission in an engineering university, so that my mother could
proudly brag about it in her circle'
-Hashmi
So, it was decided that he would study the subjects of his parents' interest, but would do the job of his passion. He didn't have interest in mechanical engineering which for instance proved lethal and he consistently failed. Hashmi's colleague had a point of view that if a man didn't fail in exams, he is not worth to be called the man. Here Hashmi claims that if this was the standard to define man, ''There was no bigger Man than I was'
Soon his teachers realized that instincts of this philosophical lad are poles apart than what they are teaching him so, they gave up on him. Hashmi joined a debating society and got himself involved in political activism. Soon the engineering degree somehow was completed. So, as decided he went along the job of his interest.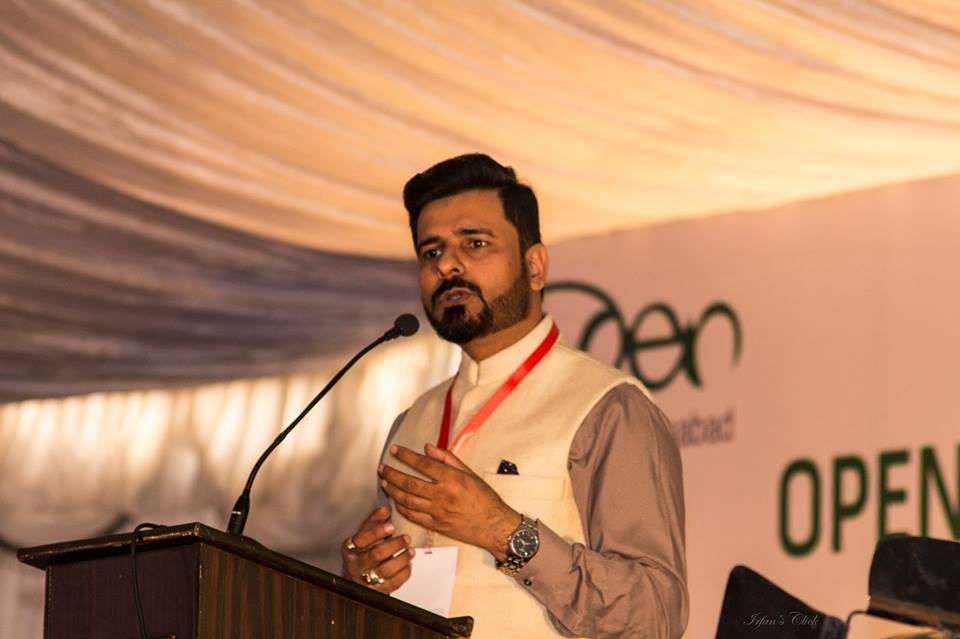 Photo Credits : OPEN Islamabad
Initially, he tried his luck in CSS. Hashmi was capable enough to be called for interview. But unfortunately, due to his haughty and straightforward nature, he ended up debating with interviewee and as a consequence he lost in his chance passing CSS.
Dishearten Hashmi got a job as an information officer, but it didn't suit his temperament so he without giving it a second thought left the job. For the time being, He started working for a local newspaper when he happened to meet Dr. Abdul Qadeer Khan who inspired, by the thoughts and literary potential of young Hashmi gave him a chance to work for TV When Shamoon Hashmi's first program 'Ik Saal 50 Sawal' was aired, it was a blockbuster and the young man was nominated for PTV awards.On that, one of his seniors said. 'We would start a channel from Lucknow for him.'
Shamoon Hashmi had a strong affiliation with Urdu language and was the biggest Foe of emerging English culture, for he thought it was contaminating pure Urdu, he ironically names this contaminated language as 'Minglish' (Urdu with the mix of English), when for getting more rating he was advised to use Minglish as the media for communication in his program, he refused. On that, one of his seniors said. 'We would start a channel from Lucknow for him.' Hashmi didn't comprised on his love for Urdu as a consequence he wasn't cast for almost 8 years.Witnessing his exceptional writing skills he was advised by a man to write scripts he acted on that and scripted 62 documentaries for ISPR which were commended worldwide and won an International award in ROME.
Witnessing his exceptional writing skills he was advised by a man to write scripts he acted on that and scripted 62 documentaries for ISPR which were commended worldwide and won an International award in ROME.
It was 2005 earthquake that brought him back to TV, He started a program "Dard Ashna" when to his surprise, he figured out that earth quake devastated country don't have a single amputation Unit. Through his program he called for donation and received a promising feedback, through donations first Orthopedic unit in Central hospital Rawalpindi was setup.
Finally, his efforts were applauded and he was awarded with the prestigious president Award 'Tamagha Essar'. He started taking part in national political activism. It was the time when Chairman Peoples Party Behanzir Bhutto died and the party was reformulating realizing the political and leadership capabilities Shamoon Hashmi, he was called up by Hussain Haqaneei to the parliament house where he met speaker National Assembly Fehmida Mirza and Hashmi was made deputy speaker, due to his phenomenal potential he was promoted to the status of joint secretary in just 2 years.
So by the age of 38 Hashmi was the youngest joint secretory of Pakistan.
Politicians and media run a smear campaign against him and lay the charges of fraud and black money on Young Joint Secretary he was called upon by court, judge on seeing him blurted out, 'What is Shamoon Hashmi doing here? Stop defaming innocent government officers' and he was smoothly convicted of the charges.
Hashmi believes that books have more power than Money, 'I don't have money in my pocket but have 8000 books in my house.' He himself is the author of a book, titled "Strengthening Women's Political Participation".
It was Shamoon Hashmi, who strongly agreed with Robin S. Sharma in that
"Leadership is not about a title or a designation. It's about impact, influence and inspiration"
-Robin S. Sharma
Undoubtedly, Shamoon Hashmi is one of the biggest assets of Pakistan and is the inspiration and role model for the future generations of the country.
About OPEN
Organization of Pakistani Entrepreneurs (OPEN) Islamabad Chapter is a US based voluntary non-profit organization which has a mission to "Foster entrepreneurship, business acceleration, partnerships, cross chapter collaboration, and belief in the brand 'Pakistan''. In accordance with its objectives, for promotion of entrepreneurship, value creation for businesses and leadership it provides an interactive platform to entrepreneurs to connect with the community. With its slogan 'Apna Maqam paida kar' (Build your hearth and home) it gives a chance to leaders and entrepreneurs to broadcast their success stories. In addition to Islamabad OPEN has its chapters in Boston, Chicago, Houston, Silicon Valley, Washington DC, and Karachi.