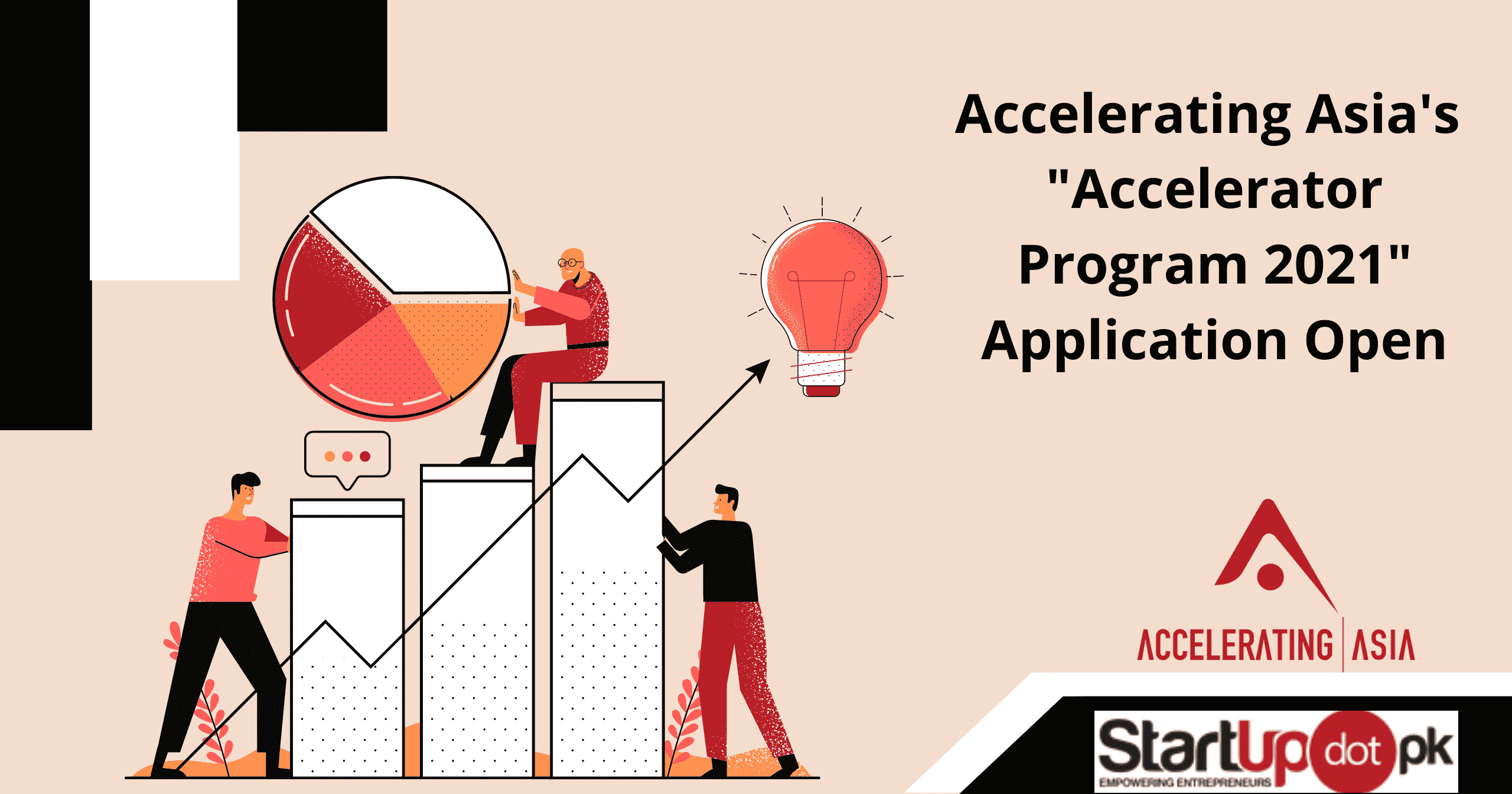 Building Startups

is not enough, and

planning to survive

on bootstrapping or personal investments is

NOT

 a sturdy plan.
This is where fund-raising boot-camps such as organized by Epiphany Pakistan with Invest2Innovate, VillageCapital, and World Bank Group, or accelerator programs such Accelerating Asia's accelerator programs come in handy.
The world is a global village inhabited by intelligent and innovative minds. What they lack is a sole platform where all the key players come together like the missing pieces of a jigsaw puzzle.
 $7.5 M raised | 100 Days | 25+ Startups accelerated | 50+ Alumni Founders
---
---
Entrepreneurs

are one of the

humanity's

greatest

catalysts

for

positive

change.
Accelerating Asia is the leading startup engagement platform that connects investors, partners, and clients to the best startups in Asia and beyond through acceleration, investment opportunities and engagement.
It is MAS-licensed early-stage Venture Capital fund that invests up to S$200,000 into pre-Series A startups chosen for the accelerator.
Investments | Accelerator | Consulting
Not only this but it has an award-winning flagship accelerator program that fast tracks growth in pre-Series A startups and takes an equity stake in each company.
No program is complete without mentoring and consulting with industry experts who engage and partner with organizations, universities, and MNCs to design and operate curriculum for startups.
---
---
The Accelerating Asia Accelerator Program Details
This independent traditional startup accelerator program headquartered out of Singapore focuses on their startups first which means the work begins from Day 1.
Who can apply?
The program is open to startups from any country since their alumni include 10 countries. The program is 100 days and is split into intensive weeks with masterclasses, investor meetings and pitch coaching with weekly activities such as Entrepreneur in Residence sessions.
Currently, with travel restrictions, the program is run virtually, which is actually how most of it is done anyway as it's always hard to get Founders into the one place. Startups still get the same connections to our investor network, access to masterclasses, dedicated Entrepreneur in Residence sessions virtually.
Deadline: 6th January 2021
How does it work?
Apply through the official Accelerating Asia website.
Selection of 450 applications after the deadline closes.
Judging of the applications begins in the Initial Screening phase.
Finalists are screened through stage 2 interviews.
Top 10 heroes are selected and awarded.
Less than 2% accepted
---
---
What it Offers?
 ► Sample Weekly Schedule
Monday: Founder & EiR Standup
Tuesday: 1 on 1 with EiR
Wednesday: Masterclass & investor meetings or office hours
Thursday: Community events
► Connections to Investors
Accelerating Asia's investor network includes the region's leading angel networks, angel investors and VCs. In our latest cohort, we ran dedicated sessions for Accelerating Asia startups with:
Pieter Kemps, Principal, Sequoia Capital India and the Surge team
Kuo-Yi Lim, Co-Founder & Managing Partner, Monk's Hill Ventures
Michael Blakey, Managing Partner, Cocoon Capital
Jeffrey Paine, Managing Partner, Golden Gate Ventures
Tommy Teo and MJ Yu, Vulcan Capital
ANGIN & Angel Central
► Masterclasses
Each program, our masterclasses are tailored and customised to the needs of the startups in the cohorts. Recent masterclasses have included:
1-1 Pitch Workshops with specialist Peter Browne
Communications Workshop with Amanda Koh, APAC PR and Analyst Relations Lead, Vodafone
Valuations/Fundraising Workshop with Rupam Biswas, Ex-IDFC Capital and Banyan Tree Ventures and Founder, Send Helper
Product Thinking Workshop with Thoughtworks
SEO Workshops with Dan Clarke, Ex-Binance and CoinMarketCap
► Access to our Mentors & Partners
Accelerating Asia's network includes Mentors, Ecosystem Partners, Investors and our Founder Community. When you are selected to join Accelerating Asia's program, you gain access to our Mentors who are industry professionals and experts across all sectors from multinationals to government, successful startup founders, investors, development professionals and technical specialist.
We also have a wide network of ecosystem partners across the region, including government partners like Enterprise Sg and Startup Sg, development organisations such as UNDP and tech companies including AWS and Google.
► Founder Community
When you join the Accelerating Asia core program, you also automatically join our Founder Community which includes 50+ alumni founders from 25 startups from 10 countries across the region. These founders are there to also support you on your startup journey, as well as those in your core cohort program. Meet some of our alumni
---
---
► Demo Day
It's your time to shine! Celebrate the conclusion of the program at Demo Day where founders will pitch their businesses to a private audience of the top investors in the region, multinationals, government partners and other relevant ecosystem players.
► Access to the Accelerating Asia team
Here to support you on your startup journey, you also gain access to the Accelerating Asia team including:
EiRs with expertise in capital raising, growth and product to deep dive into key topic and give you 1-1 support.
Operations to assist you and connect you with partners and service providers who can help with company setup bank accounts, visas and more to ensure you are ready to raise capital from our network of investors
Marketing and PR support to guide you on how to raise your profile in the region and facilitate interview and pitch opportunities.
► Perks & Benefits
Startups joining the Accelerating Asia program receive more than $225,000 in program value in:
Program perks from AWS, Stripe and more.
Program value including Entrepreneur in Residence sessions, Masterclasses and Investor and Mentor access.
In return for S$225k, we charge a program fee of S$25k and 3% equity.
The program value is on top of and separate to the $200k from our early stage VC fund.
► Ongoing Support
When you join our program, you also join our portfolio and become part of our network. The Accelerating Asia team provides ongoing support to our startups with quarterly portfolio catch-ups and the ability to get in touch if you need to deep dive with our EiRs or talk through communications/PR strategy with the Marketing team.
---
---